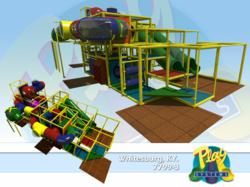 Indoor playground equipment from Pacific Play Systems for fast food restaurants, shopping malls, amusement parks, pay for play facilities, etc., now offered with discounted price and free design
Carlsbad, CA (PRWEB) July 18, 2012
Southern California commercial playground equipment company, Pacific Play Systems, Inc., is now offering free design and a 5% discount on all indoor playground equipment during the months of July and August to customers in San Diego, Orange County, San Bernardino, Riverside and Los Angeles. Making the announcement, Adam Bemanian, company's Design Associate elaborates that their playground equipment is designed and built to provide the safest possible play experience for children of all ages, recognizing that safety is always the top priority. Bemanian further explains that these structures are built with the highest quality materials from the most reputable manufacturers nationwide and are available with the best warranties in the industry.
Now offering free design and planning for its indoor and outdoor playground equipment, the company not only places a top priority on providing the safest playground equipment possible, but provides special attention to the client's particular needs allowing each customer's unique playground vision to be fulfilled. With the special promotional discount offered, Pacific Play Systems' wide selection of indoor and outdoor playground equipment is now offered at very competitive prices with a price match guarantee from the company until the end of August, according to Bemanian.
Bemanian further explains that because play is a key component in all children's lives, Pacific Play Systems' crucial role is to ensure that the play experience offered is maximized with extreme fun, safety and inspiration. Pacific Play Systems' colorful and imaginative indoor playground equipment provides exciting play environments that create lasting childhood memories. This equipment can be installed indoors or outdoors, and is ideal for amusement parks, fast food restaurants, food establishments, shopping malls, parks, pay for play facilities, churches, etc. While providing a rich play environment for children of all ages and abilities, soft contained equipment provides businesses with an exciting added attraction, helping bring in additional customers and increased revenue.
About Pacific Play Systems, Inc.
Located in Carlsbad, CA, Pacific Play Systems, Inc. specializes in commercial indoor and outdoor playground equipment design and installation. The company has installed for parks, schools, preschools, HOAs, military bases, and churches throughout southern California: including San Diego, Orange, Riverside, San Bernardino, Imperial, and Los Angeles counties. As a full service playground equipment company, Pacific Play Systems provides clients a complete package, where site evaluation and custom design are offered at no cost or obligation. Pacific Play Systems holds several construction licenses that allows them to deliver a complete turnkey project from design through installation. In addition to its state-of-the-art Playcraft commercial playground equipment, Pacific Play Systems offers a wide variety of shade structures, sports equipment, soft-contained indoor playground equipment, water park equipment, playground safety surfacing and site furnishings.