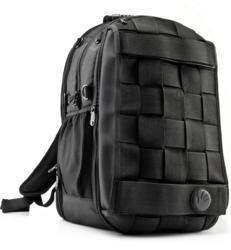 At SLAPPA we undertsnad that back packs and computer bags need to be engineered to stand up to the wear and tear of campus life.
Charlotte, NC (PRWEB) July 19, 2012
Getting all of the supplies and gear needed to send students back to school can be a daunting task especially with all of the choices to be made. Back packs and other school type bags are a necessity. If a bag is going to be used to carry a laptop, iPad or other tablets there can be allot to consider before making the final purchase.
SLAPPA Marketing Director Cris Bremner has these recommendations and tips for purchasing Back to School back packs and computer bags.
1. Make sure the size of the bag is large enough to accommodate all of the contents. Over loading a bag can lead to damaged computers, components and supplies and adds additional stress to the seams of the bag leading to tears and other issues.
2. Check for padding and look for bags with a designated padded compartment for the lap top or tablet. It's best not to have a laptop or tablet carried in a bag without some type of protection from the rigors of campus life.
3. There should be enough compartments for all of the other items that will be stored; cables, cell phone, mouse, calculators, keys, notebooks, pens etc.
4. Smaller quick access pockets on the exterior of the bag are handy and good to have for items that are needed quickly like Metro passes, car keys and the likes.
5. Look for fully adjustable and padded shoulder straps. Allowing for a good fit is important, the more a bag gets loaded up the harder it can be on the back and shoulders.
6. While the design and look of the bag is no doubt going to be important, you want to look for backpacks made of durable heavy duty woven materials.
7. What's on the bottom of the bag, or the area that is going to hit the ground most often? It's always a good idea to find a bag that has some type of reinforcement on the bottom to prolong the life of the bag.
8. Often times there may be a reason to clip or tie on another belonging such as a jacket, skate board or even a smaller bag or case. Check the bag for metal "D" rings and accessory type straps that will allow for added convenience.
9. Once you've purchased the right bag, consider using a waterproofing or fabric protection type spray to help keep your bag clean and looking good longer. It's amazing how this can extend the life of a bag for as little as $4.
10. Last, check to see if the bag comes with a warranty or guarantee. Many manufacturers stand behind the products they make with very good programs and knowing that you can exchange a product should it not stand the test of campus life is important.
ABOUT SLAPPA
Established in 2002, SLAPPA Distribution, LLC engineers, manufactures and distributes innovative products, offering the highest quality backpacks, laptop bags, sleeves and specialty cases for CD and DVD collectors, DJ's, Pro Audio users, Gamers and photographers. SLAPPA has earned a reputation for offering dependable, quality products with unparalleled performance. The company has been recognized for its excellence by leading consumer publications and sites, both in the U.S. and abroad. SLAPPA products are currently available in 14 countries around the world. SLAPPA, LLC continues to actively expand its domestic and international presence with new and innovative products. Websites include http://www.slappa.com, http://www.slappa.co.uk, http://www.slappa.ca and http://www.slappa.com.au.
SLAPPA is dedicated to providing professional and amateur gamers with bags and accessories that provide extreme protection for gear while in transit and at tournaments. SLAPPA is proud to sponsor three world class professional Major League Gaming (MLG) teams; Evil Geniuses-EG, FNATIC and SK Gaming. In addition, SLAPPA sponsors LANs (Local Area Networks) in the U.S. and Canada in order to support all gamers in their pursuit to perfect their game and grow the sport.
For more information on SLAPPA products including purchases, distribution and our affiliate program please visit http://www.slappa.com
For more information about this release, please contact
Cris Bremner
Director of Marketing
cris.bremner(at)slappa(dot)com
704.676.4891
805.231.4813