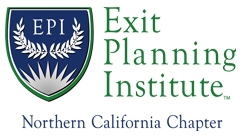 San Francisco, CA (PRWEB) July 18, 2012
The Exit Planning Institute's Northern California Chapter is hosting an exiting planning awareness event at Peninsula Golf and Country Club featuring speaker Richard Jackim, co-founder of the Exit Planning Institute (EPI) and co- author of the book "The $10 Trillion Dollar Opportunity: Designing Successful Exit Strategies for Middle Market Business Owners". The event will host professional advisors from top ranking local firms and will introduce the topic of exit planning and its importance.
The goal for the EPI NorCal Chapter is to create a forum where advisors, representing the multiple disciplines necessary for a successful client exit, can collaborate and educate themselves on the process of exiting planning and business succession. Through membership, the Chapter advisors can meet their peers and gain the benefits of cross-discipline discussion for the establishment of best practices, and the unique business situations they encounter with their clients. The Chapter will include opportunities to attend continuing education events, national EPI sponsored events, receive sponsored research and white papers, and develop strategic partnerships within local community.
John H. Maierhofer, Managing Member of Maierhofer Wealth Management, and Sean P. Hutchinson, Managing Partner of FortunatoHutchinson, are Certified Exit Planning Advisors (CEPA) through EPI, and are both founders of the EPI NorCal Chapter http://www.norcalepi.com.
About Maierhofer Wealth Management
Maierhofer Wealth Management, LLC of Burlingame, CA, is a boutique wealth management firm, specializing in successful exit planning. Our commitment is to cost effectively help our clients to fully realize the opportunity their wealth can provide to their family and beneficiaries. We do this by creating dynamic wealth and business exit action plans to achieve their financial goals and life aspirations, without compromise. Please visit our website at http://www.maierhoferwm.com for more information or contact us at 650.342.2262.
About Fortunato Hutchinson
FortunatoHutchinson of San Francisco, CA, is an independent boutique investment bank focused on providing financial, strategic, and transactional advice on mergers, acquisitions, restructurings, financings and capital raises to corporations, partnerships, institutions, and private equity funds. We serve a wide range of domestic and international clients looking for unconflicted advice and assistance on their most important strategic issues. Please visit our website at http://www.fortunatohutchinson.com for more information or contact us at 415.616.0702.