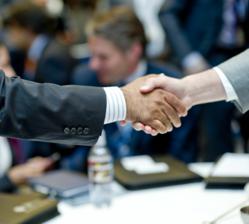 "Investments in the water industry are making a bigger splash in the oil and gas exploration and production sector than Cadillacs and 10-gallon hats."
Austin, Texas (PRWEB) July 19, 2012
The Water & Energy: Upstream Supply & Demand Strategies conference is a vital and timely forum giving insight into the future of the U.S. energy sector and the emerging business models brought on by the industry's need for water. To be held in Houston, Texas, on Oct. 4 & 5, the event will bring together industry experts from both water and energy for exceptional sessions focused on economically and environmentally viable solutions to improve the water value chain for the upstream energy industry at every step, including sourcing, moving, treating and disposing/reusing water.
"The water-energy debate has reached new levels," said Amanda Brock, CEO of Water Standard and conference co-chair. "In an era of increasing scarcity and climate change, the shale plays and focus on U.S. energy independence have further highlighted the need to urgently identify how the water and energy industries can effectively co-exist. There is no other alternative."
Clay Landry, managing director of WestWater Research and event co-chair, said, "Investments in the water industry are making a bigger splash in the oil and gas exploration and production sector than Cadillacs and 10-gallon hats."
Attendance will give you direct insight from senior executives, thought leaders, regulators, technologists and financiers from both industries. The sessions are moderated panel discussions, and there is ample networking time built into the conference schedule. Whether you are a player in oil field services, water treatment or new technology or are an investor, this conference is for you.
The summit is hosted by American Water Intelligence, WestWater Research and the Produced Water Society. The conference is the third in the series of Water Rights Trading Regional Summits, sponsored by Grundfos.
Further details: http://www.waterenergystrategy.com
Megan Wieding, 512-782-4661, mw(at)globalwaterintel(dot)com
Monique Hardy, 208-433-0255, hardy(at)waterexchange(dot)com
American Water Intelligence (AWI) is based in Austin, Texas, and publishes American Water Intelligence, the market-leading trade publication for the North American water and wastewater sectors. http://www.americanwaterintel.com
WestWater Research, LLC, based in Boise, Idaho, is the premier advisory firm in the water rights industry, specializing in water transaction advisory, water investment and valuation services. http://www.waterexchange.com
###