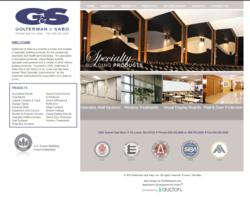 The Net Impact implemented a lot of new content and coding in our website to get us in front of our clientele online
St. Louis, MO (PRWEB) July 18, 2012
Golterman and Sabo, a St. Louis building products subcontractor, engaged The Net Impact to design a website specifically to increase website traffic. As a products subcontractor, Golterman and Sabo offer specialty building products for commercial, healthcare and educational industries, such as display boards, acoustical products and operable wall systems. Golterman and Sabo contacted The Net Impact to redesign their website to increase their web traffic and introduce more prospective customers to the company.
"Using SEO (Search Engine Optimization), my team was able to redesign the Golterman and Sabo website to appeal more directly to their demographic," says Mandy Christanell, Manager of Design and Development. "Golterman and Sabo retain many local customers and increasing their web traffic will only increase their success. We look forward to continuing this process with them in analyzing our improvements within the next few months."
The Net Impact began the redesign process building custom Microsoft .NET pages, using their web CMS (Content Management System) partner Auctori. Microsoft .Net pages increase productivity with rapid development and integrate multiple programming languages at once making the site more purposeful. The Net Impact developed the navigation, pages and content for the site as well. Along with this came the titles, descriptions and keywords population to improve SEO.
"The Net Impact implemented a lot of new content and coding in our website to get us in front of our clientele online," says Dennis Voss, Sales Manager of Golterman and Sabo. "Golterman and Sabo targets a specific audience just like other businesses and it's important to us to reach them with our online properties and offline properties. In becoming more search engine friendly, thanks to The Net Impact, we can better utilize our online properties and bring in more customers to increase revenue."
The Net Impact monitors their processes using Google Analytics and has also created a mobile home for user accessibility. Comprehensive site testing will allow The Net Impact to continue observing the implemented changes. As with any customers, The Net Impact will continue to work with Golterman and Sabo through their familiar customer service skills.
About The Net Impact®
The Net Impact, a web marketing, web development and web design firm, is a division of Unidev®. Since 1997, The Net Impact has been a web development leader empowering clients with highly creative search engine friendly websites. Professional services include search engine and Internet marketing solutions, Internet strategy development, training, seminars and web design. For more information on The Net Impact, please visit http://www.thenetimpact.com, or call (800) 301-9589.
About Golterman & Sabo
Founded in 1946, Golterman & Sabo is one of the premier providers of specialty building products in the Midwest. The company manufactures and distributes acoustical products, hospital curtains and track and a variety of other specialized products for the commercial, educational and medical industries. Golterman & Sabo is located at 3555 Scarlet Oak Blvd, St. Louis, MO. For additional information visit http://www.goltermansabo.com or call 800-737-0307 or 636-225-8800.