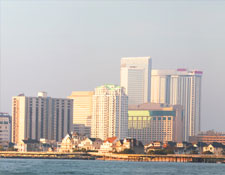 Your social media opportunities are limitless … are you taking advantage of them?
Atlantic City, NJ (PRWEB) July 20, 2012
"Social Media for Marketers" is coming to Atlantic City, NJ on September 20 and 21.
Social media marketing is hotter than ever, so understanding it is crucial. It's a way to stand out in an overcrowded marketplace and to build loyal fans. Social media opportunities are only limited by the time it takes to implement them. Learning how to tap into its power and how to develop a social media strategy is key. For bootstrapped companies, most of these marketing opportunities are free or low cost, requiring only decent writing skills and a well thought out strategy.
Attend this seminar via live webcast or in person in Atlantic City, NJ, at The Atlantic Club Casino Hotel on September 20 and 21 to:

Discover the best social networking options
Increase search visibility using social media
Gain new customers and generate revenue by incorporating videos
Develop an effective social media strategy
Uncover the difference between Google+® and other social media sites
The Expert Faculty Includes:
Christine Rochelle, PCG Digital Marketing
Luke Glasner, Glasner Consulting
Ed Andriessen, Business Training Resource
Daniel Beldowicz, Single Throw Internet Marketing
Stephen Murphy, PCG Digital Marketing
Brittany Elizabeth Richter, PCG Digital Marketing
Brad Tornberg, E3 Consulting Partners, LLC
Can't make it to the event?
Attend online! This event will be available as a live streaming video. Listen to the expert panel of speakers from home or the office. Ask questions online and access the powerpoint presentations.
About The Association of Strategic Marketing:
The Association of Strategic Marketing is a leading provider in training and development for marketing professionals offering audio conferences, webinars, articles and white papers covering the latest trends, techniques and best practices that impact the success of thousands of marketing professionals. ASM continually adds new content and programs to keep marketers informed and up-to-date on industry hot topics.