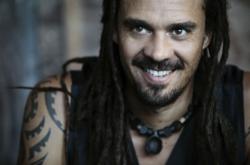 Money raised from this one special evening will provide the majority of funding for Kids in a New Groove's life changing music mentorship program for foster youth
Austin, Texas (PRWEB) July 18, 2012
Kids in a New Groove, the pioneering Austin charity that seeks to change the lives of foster youth through music mentorship, announced today that Michael Franti & Spearhead will headline their annual Music for the Soul fundraising event on September 20, 2012 at the Long Center for the Performing Arts in Austin. The event will feature general admission concert tickets, in addition to limited VIP tickets that include a pre-party, dinner at the Long Center with renowned DJ Chicken George, cocktails throughout the night and premium concert seating.
Money raised from this one special evening will provide the majority of annual funding for Kids in a New Groove's life changing music mentorship program for foster youth, where students take weekly private lessons, perform in recitals, make records, and earn their own brand new musical instruments. Through Kids in a New Groove, over 350 Texas youth in foster care have already benefitted by building confidence, attending college, improving grades, and making lasting friendships. Michael Franti will bring special meaning to the event this year, as the artist has a longstanding reputation for highlighting music's ability to connect society in a socially progressive and meaningful way. Franti and his band will be welcome guests in Austin, where they have performed their inspiring blend of hip hop, funk, reggae, jazz, folk and rock before crowds at Austin City Limit's Music Festival, in addition to shows at the Erwin Center and Moody Theatre. Tickets go on sale Friday July 20, 2012 at http://www.thelongcenter.org or visit http://www.kidsinanewgroove.org for sponsorship information.
For tickets and information, visit http://www.kidsinanewgroove.org. Tickets go on sale Friday, July 20th at thelongcenter.org.
Kids in a New Groove: Kids in a New Groove (K.I.N.G.) is a 501c3 Austin based non-profit that provides weekly private music lessons and instruments to children in the Texas foster care system. K.I.N.G. seeks to change the grim statistics on youth aging out of foster care, where many children eventually face homelessness or incarceration due to lack of community resources. As foster children move between placements, a K.I.N.G. teacher moves with each child, providing a consistent and stable mentor. The K.I.N.G. program also helps children build life skills, accountability, goal-setting, and perseverance. Each foster child is also given the chance to earn their very own musical instrument through dedication and hard work, as well as encouraged to perform at concerts and recitals.
Michael Franti & Spearhead: The Sound Of Sunshine -- the inspired and inspiring new album by Michael Franti & Spearhead -- is a kind of musical sun shower, a bright, beautiful and often buoyant song cycle created to bring all kinds of listeners a sense of hope during rough and rainy times for so many in our world.
"Music is sunshine," says Michael Franti, one of the most positive and conscious artists in music today. "Like sunshine, music is a powerful force that can instantly and almost chemically change your entire mood. Music gives us new energy and a stronger sense of purpose." Well aware that countless others face far worse problems than he did, Franti wants The Sound Of Sunshine to communicate a sense of hope and possibility for anybody who needs it. Franti's singularly open spirit reflects his own eclectic and intriguing background. Michael was born to an Irish- German-French mother and an African American and American Indian father in Oakland, then adopted by a Finnish American couple who raised him along with their three biological children and another African American son. While studying at the University of San Francisco, Franti formed the punk band The Beatnigs, and later the far more hip hop-inflected The Disposable Heroes of Hiphoprisy. Through it all, Franti has crossed all sorts of musical and physical boundaries in order to make music for everybody. In spite of Franti's reputation as a groundbreaking festival headliner, both 2008's All Rebel Rockers and the more recent The Sound of Sunshine
have yielded hits, including "Say Hey (I Love You), "The Sound of Sunshine, and "Hey, Hey, Hey." To make a financial donation to the K.I.N.G program, or to learn more about the organization, please visit the website kidsinanewgroove.org. For the most up to-date news, follow Kids In A New Groove on Twitter (KidsGroove) and on Facebook. For more information on Michael Franti & Spearhead, visit michaelfranti.com
CONTACT / Kids In A New Groove
Karyn Scott: karyn(at)kidsinanewgroove(dot)org
Lauren Van Osten: lauren(at)kidsinanewgroove(dot)org