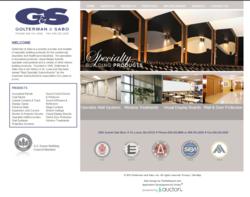 At Golterman and Sabo we want to continue to grow our business and Auctori will allow us to scale as the company grows
St. Louis, MO (PRWEB) July 18, 2012
Golterman and Sabo, a St. Louis local subcontractor of specialty building products selected Auctori as their web CMS (Content Management System). After reevaluating their website, Golterman and Sabo realized they needed a web CMS to optimize their website SEO (Search Engine Optimization) while remaining scalable and secure. Auctori manages to serve their clients in all of these aspects. Auctori is a user-friendly web CMS and allows companies in all industries to maintain consistent, well-organized content on their websites.
"When creating Auctori, we not only wanted clients to manage their websites easily, but also rank high in search engines," says Kym Bohl, Manager of Content and Testing. "Golterman and Sabo can now reach their potential clientele successfully and easily manage their website."
Auctori groups items on a web page into modules in order to create a more manageable way to update or remove any changes. Golterman and Sabo customized their website using the image gallery, content pages, navigation, reusable content and form builder modules. Golterman and Sabo chose these particular Auctori modules to quickly build out pages and add menus, images or any consistent content throughout the website with just a few clicks of a mouse.
"At Golterman and Sabo we want to continue to grow our business and Auctori will allow us to scale as the company grows," says Dennis Voss, Sales Manager of Golterman and Sabo. "With the implementation of Auctori we no longer need to rely on just our developers to make website changes. We now have the freedom to make changes to our product literature and specification information easily, and can instantly update our customers."
About Auctori®
Auctori, a Unidev solution, is a secure, scalable, ManyLingualSM, global Web Content Management System (WCMS) built for search engine optimization. Auctori gives the user the power to add, edit, and delete pages, content and navigation elements on the user's website instantly. In addition, users have the ability to manage profiles and settings all within the content management system. For more information on Auctori or for a free demonstration, please visit http://www.auctori.com, or call (888) 629-4672.
About Golterman & Sabo
Founded in 1946, Golterman & Sabo is one of the premier providers of specialty building products in the Midwest. The company manufactures and distributes acoustical products, hospital curtains and track and a variety of other specialized products for the commercial, educational and medical industries. Golterman & Sabo is located at 3555 Scarlet Oak Blvd, St. Louis, MO. For additional information visit http://www.goltermansabo.com or call 800-737-0307 or 636-225-8800.