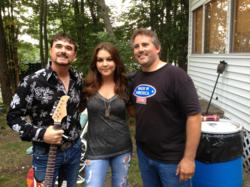 Elma, New York (PRWEB) July 18, 2012
The Made In America Store, known for hosting the "Made In America Tour" and playing at multiple venues, is bringing Ricky Lee to Clarence, New York, for yet another benefit concert. Rock The Barn is an annual Music Festival that helps raise money for Clarence Newstead Meals on Wheels Task Force, the primary fundraiser of the event.
Ricky Lee had teamed up with the Made In America Store to produce the world's first 100% US made music CD. The album titled "Freedom" brought patriotic tracks and a little something for the veterans. For every CD sold at the Made In America Store, five dollars will be donated to the VFW Military Assistance Program. Since the initial release of "Freedom", Ricky Lee has expanded from his home town in Altoona, PA, to becoming a household name in Western New York, Nashville and the Chicago area. Ricky Lee just released his third 100% American made, full length album titled "My Home Town".
The Made In America Store has presented Ricky Lee to quite a few big name events, one of which recently was Jam in the Valley 2012. The Made In America Store had sponsored the Jam In The Valley this year (2012) which brought 25,000 fans to the small town of Varysburg, New York, for a two day country music festival. This two day concert event gave the Made In America Store and Ricky Lee the chance to get their name known and an opportunity to show that Ricky had what it takes to compete with the big names. Ricky Lee opened for the main acts of Gretchen Wilson, Sawyer brown, Jerrod Neimann and Thomas Rhett with the National Anthem on Friday.
Additionally, Ricky Lee had his own set on the second day of Jam in the Valley where he opened the concert with a live performance before Randy Houser, Justin Moore and Lynyrd Skynyrd. After the headliner played their last song, Ricky Lee got a chance to sing a solo song in honor of our troops, right before the fireworks.
Consumers can visit http://www.MadeInAmericaStore.com for any of Ricky Lee's 100% American made CDs.
Rock the Barn is a charitable event that raises money for Clarence Newstead Meals on Wheels Task Force, which bring meals to elderly individuals who couldn't afford it otherwise. This year will mark Rock the Barn's 8th annual music festival, and show no signs of slowing down this year.
Rock the Barn is a two day event, with Friday being country night and Saturday featuring Kenny "Blue Boss" Wayne, as part of the Rock the Barn's Blues lineup. Additional bands include The Hurricanes, Gretchen Schulz & the Morvells, Joe Mahfoud and Patti Parks.
Individuals interested can purchase their tickets for $20 at the door or get advanced tickets for $15 at any Dash's Market locations! Each festival ticket provides admission for both days.
The Made In America Store is located at 900 Maple Road in Elma, New York and is committed to selling 100% American manufactured products. You can visit http://www.MadeInAmericaStore.com for more information or shop our catalog of over 3,500 products from over 290 vendors that are devoted to producing USA made products. All US military personnel, both active duty and veterans, receive a discount every day. Consumers can also keep up to date news articles, events, photos and contests with Facebook, Twitter, Google+, Pinterest and Tumblr!