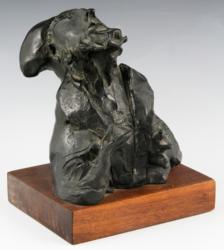 Beverly, Massachusetts (PRWEB) July 23, 2012
Kaminski Auctions is pleased to present a 20th Century Decorative Arts Sale on Saturday July 28th beginning at 10:00AM. Set to take place at Kaminski's auction gallery, located at 117 Elliot Street, Rte. 62, Massachusetts, the sale will feature three works by artist David Aronson.
Currently living and working in the Boston area, but born in Lithuania in 1923, Aronson's resume boasts many appearances in the nation's most respected galleries and museums. A graduate of the School of the Museum of Fine Arts, Boston, Aronson has also worked extensively with Boston University, directing the visual arts program at their School of Fine and Applied Arts, which later became into the College of Fine Arts. He was also a principal founder of the Boston University Art Gallery. After serving as a Professor of Art for over two decades, he earned the honor of Professor Emeritus of Art.
David Aronson's works have garnered much success at auction houses around the country, including recently at Kaminski Auctions. At the May 17, 2012 Fine Arts Sale, three of Aronson's bronzes achieved noteworthy sales: "Harlequin" sold for $11,700, "False Messiah" sold for $4,100 and "The Rider" sold for $3,400.
In the upcoming July 28th sale, Kaminski will feature three more of Aronson's works. A signed bronze plaque, estimated between $3,500 and $4,500 will be on offer, as well as the sculpture, "Rabbi," estimated between $1,800 and $2,500. "Boy With Flute," another signed bronze, is estimated between $1,500-$2,500. This last work comes from a private collection in Los Angeles, and was originally purchased at Louis Newman Gallery in Beverly Hills, California in the 1960s.
In addition to bronze sculptures, Kaminski includes works by artist Feliciano Bejar, lithographs by Alexander Calder, art glass by LeVerre Francais, Art Deco style lamps and fine ceramics. Important 20th Century furniture by Eugene Schoen, Mies Van der Rohe, and Hans Wegner, will also be on offer. Exciting items such as John Lennon's Art Deco rug, a Gustav Stickley floor lamp, and a 1961 Wurlitzer Juke Box are additional highlights of the sale.
Kaminski Auctions invites you to attend preview, Wednesday-Friday, July 25th through 27th from 10:00AM until 5:00PM, and Saturday the 28th beginning at 8:00AM. For more information and to browse all lots online, please visit us at http://www.kaminskiauctions.com.
Kaminski Auctions, located on the North Shore of Boston, has been serving the New England antiques market for over 25 years as a full service auction house and appraisal service for fine art, antiques and estates. With two locations in Beverly, Massachusetts, including a new state of the art auction gallery located at 117 Elliott Street, and a historic 1850's barn and office facility at 564 Cabot Street, Kaminski Auctions hosts 16 auctions a year. In today's highly competitive market of fine art and antiques, Kaminski Auctions provides its customers with bicoastal services and marketing with west coast offices in Beverly Hills and San Diego, California.Kaminski Auctions offers specialty departments in Asian Art and Antiques, Silver, Glass and Lamps, Couture and Vintage Clothing, Photography and Modern Design . We have highly trained and knowledgeable appraisers on staff that will help you determine the true value of your antiques, or entire collections. Free Appraisal days are offered every Tuesday from 10:00am-4:00pm at our 564 Cabot Street location in Beverly, Massachusetts.