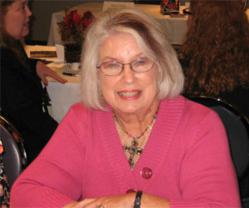 "The incredible popularity of Fifty Shades of Grey has really opened readers' minds to the genre to the point where it's fine to admit that I am a woman in my mid-seventies who just happens to write about passionate erotic relationships." Desiree Holt
Adams Basin, NY (PRWEB) July 26, 2012
The 76 year old grandmother has spent the majority of her retirement years, after a career that included, among other things, managing rock bands, writing the hottest of erotic romance. Holt is published with several publishers, but The Wild Rose Press, Inc. has a special kinship with the feisty Texas Lady.
Rhonda Penders, co-owner and Editor-in-Chief states, "Desiree never ceases to amaze me with what her imagination will come up with next. When everyone was talking about Fifty Shades of Grey, I immediately responded that if they thought that was hot, they've never read a Desiree Holt story."
While Fifty Shades of Grey has brought new readers to the erotic romance genre, Holt doesn't feel threatened by the newcomer. "The incredible popularity of Fifty Shades of Grey has really opened readers' minds to the genre to the point where it's fine to admit that I am a woman in my mid-seventies who just happens to write about passionate erotic relationships."
Along with Mature Times, The Daily Mail Newspaper out of the UK also recently wrote about Desiree's steamy career choice and how she would rather research sadomasochism, threesomes, and bondage than bake cakes.
Holt is the author to 105 steamy novels and short stories spread across several publishing houses including The Wild Rose Press, but Penders insists there's plenty of Holt's imagination to go around. "Desiree is not only a consistent best seller in our company but is also one of our largest producers of books of any author in our company. She has to publish with more than one publisher as none of us can keep up with her output! Every one of her stories is unique. As long as the sexual encounter is between consenting adults and not illegal, Desiree will write about it and make her readers squirm in their seats."
Is all this erotic romance merely "porn for women" as some claim? Holt puts it this way erotic romance is a powerful form of fantasy. The stories give women the confidence to spice up their sex lives, experiment and become more confident in their own sexuality."
Penders adds, "If a woman reads an erotic romance whether it's a Desiree Holt romance or Fifty Shades of Grey, and it, shall we say, "inspires" her to seek out her partner for a romantic moment, what is the harm in that? I've even gone so far as to call Desiree Holt's books marital aids."
The Wild Rose Press, Inc. began selling romance short stories and full length novels six years ago including not only erotic romance, but paranormal, historical, suspense, and sweet romance as well. Their catalog boasts 1500 romance titles and over 500 authors located worldwide. They are always open to finding new romance authors and their submission guidelines can be found on their website. In addition, their books can be purchased from their own site or from any number of distributors including Amazon.com, SONY, Barnes and Noble, and the Apple IStore.
Holt's latest book, "Buckskins, Boots, and Bondage" is part of the Cowboy Kink series and can be found alongside a multitude of other erotic romances at The Wild Rose Press, Inc. Holt also was the first author at The Wild Rose Press to have her own author App and she can be downloaded on either the Android of Apple platform.
# # #