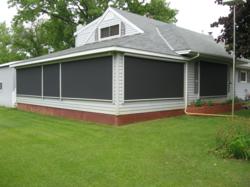 "While turning up the air conditioner results in higher energy bills, awnings and shades work with the air conditioner to keep your home cooler and reduce the need for additional energy."
Roseville, MN (PRWEB) July 19, 2012
Record hot temperatures were set or met in many cities across the United States during the recent heat wave, and similarly hot temperatures are expected throughout the summer. While cranking up the air conditioner is a quick and natural response, it can cause power overloads resulting in outages as communities start turning up the A/C. An alternative is to add awnings or solar shades into the equation.
"People don't realize that there are more eco-friendly ways to stay cool," said Byron Yonce, MFC, chairman of the Professional Awning Manufacturers Association (PAMA). "While turning up the air conditioner results in higher energy bills, awnings and shades work with the air conditioner to keep your home cooler and reduce the need for additional energy."
In fact, a new study covering 50 cities nationwide indicates that in a hot year, awnings and exterior shades can reduce annual cooling energy on average by more than 25%, compared to homes with unshaded windows. This can amount to as much as a $200 savings (or more) for a home with equal window distribution on all four sides. The amount of cooling energy saved varies depending on the number of windows, type of glass in the windows, window orientation and the climate of the region.
For instance, awnings on a home with single or double glazed windows in Pittsburgh, PA can reduce cooling energy 46-50% in a hot year compared to the same house without awnings. The correlating cost savings can range $81 to $102.
"People now realize that cooling energy is lost through glass doors and windows. The sun's rays through glass are responsible for almost 20% of the load on your air conditioner, says Michelle Sahlin, Managing Director of PAMA.
Sahlin states that home awning use benefits more than the individual homeowner. "There is less demand for electricity during peak hours when multiple home owners reduce their need for energy. Blackouts can cost a community a lot of money when offices and businesses are shut down."
The new study, conducted by White Box Technologies focused on older homes that are typically smaller and less insulated than newer construction. The resulting data supports awnings and solar shades as "smart" retrofits to help make older homes more energy efficient. The study incorporated updated information about weather and energy costs, and included a number of variations (cities, shade designs and fabrics).
The study in its entirety will be released later this summer. For more information about the energy study or to find an awning manufacturer near you, please visit awninginfo.com.
About PAMA
The Professional Awning Manufacturers Association (PAMA), a division of the Industrial Fabrics Association International (IFAI), is the only international trade association committed to the awning industry. PAMA membership is open to companies who are current members of IFAI and manufacture or sell awnings, as well as those who supply goods and services to the awning industry.