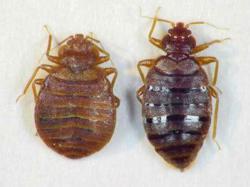 ...the spraying of the solution causes no hassle and health problems as coughing, sneezing, poisoning and breathing problems.
Cincinnati, OH (PRWEB) July 19, 2012
Bed Bug Bully reviews show that Optimal Chemical's product presents a truly effective and safe way to fight bed bugs. However, the company understands consumers' apprehension to every new product in the market. And so to prove that its bed bug killer indeed works and is not a threat to health or environment, it's giving out samples of the solution and an access to its bed bug webinar.
Get The Non-Toxic Bed Bug Bully Today
With Bed Bug Bully, Optimal Chemical basically presents a non-conventional way of getting rid of the blood-sucking pests. But although non-conventional, the product is generally more beneficial than others that consumers can purchase.
Particularly, it is the composition of Bed Bug Bully that makes it different. Unlike most of the solutions, the product does not have harmful chemical contents. Instead, the company manufactured it with the use of natural ingredients. And as a result, it was classified as pesticide-exempt given that it does not produce negatives health effects.
However, the company said that the gentleness of the product to health and the environment does not compromise its effectiveness. In fact, it makes the solution even more effective as its "greenness" boosts the benefits the consumers can get. And as the Bed Bug Bully reviews exhibit, the company's clients are loving the added benefit.
Learn More About Bed Bug Bully and Other Green Cleaning Products
The absence of harsh chemicals from the solutions specifically prevents the product from leaving any harmful residue to the indoor atmosphere. That, in return, eliminates the need to evacuate from the area of treatment. Hence, the spraying of the solution causes no hassle and health problems as coughing, sneezing, poisoning and breathing problems.
Looking at it the other way, the product also prevents additional expenses. For one, the use of it avoids medical spending for any of the mentioned health problems. Besides that, the effectiveness of the solution also prevents a person from becoming the meal of the pests. That prevents more bed bug bites that a victim can get. And needless to say that can spare anybody from social embarrassment and huge bill to fix the nasty marks the pests can leave.
Nonetheless, no bed bug product can do all the work. Despite any solution's effectiveness, a bed bug sufferer must also take other steps apart from spraying a non-toxic Bed Bug Bully to ensure the complete elimination of the pests. And so apart from giving complimentary samples, the company is also offering a free bed bug webinar to all its clients. Within it are updated tips and tricks to keep bed bugs out.