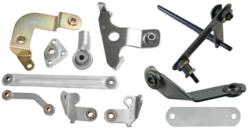 Oshkosh, WI (PRWEB) July 18, 2012
Triangle responds with inventive and intuitive solutions to assembly challenges from an OEM in the construction equipment industry. Recently this globally-sold construction company came to Triangle looking for assistance designing and manufacturing a better solution for a pedal control on an industrial tractor. There were a few obstacles to overcome: two self-aligning bearings that needed to be in close proximity and three linkages that needed to be assembled together. A customer request for cost-savings, along with quick and painless assembly, were the main engineering challenges that Triangle undertook.
All of these components were required to work seamlessly together and the whole design needed to cut costs, either through material choices or lowered assembly time. Triangle's solution utilized a combined metal and plastic custom linkage assembly. This LA linkage solution led to a reduced assembly time at Triangle, and in turn, cost savings for the customer. Instead of a grooved pin and snap ring assembly, which is expensive and time consuming to assemble, Triangle chose a quick-assembling plastic pin, in addition to utilizing self-aligning components that reduce binding in the joints between the linkages.
Triangle manufactures and engineers finished linkages to suit any industry or design need. The value of a single-source linkage is in its flexibility and customization. Linkages have the capability to be bent or twisted and can be plated in zinc and clear, zinc and yellow, black zinc or automotive-grade paint. Most linkages are produced in fixed lengths and end-to-end orientations, which has been found to make assembly into a customer's product much faster, more reliable and less expensive than many threaded linkage assemblies.
Fitted with Triangle's nylon, sintered bronze or iron self-aligning bearings, linkages are often utilized by the lawn and garden, automotive, construction and agricultural industries, but there is no limit to their potential and Triangle's ability to provide the right solution.
About Triangle Manufacturing
For almost a century, Oshkosh, Wisconsin's Triangle Manufacturing Company has used a foundation of experience, paired with technical know-how and advanced automation to be the leader in fully customizable metal fabrication, product innovation and invention. We have introduced and redesigned fresh products that are progressive in their respective industries. Whether you need lazy susan bearings and HVAC components, pillow block mountings and blower bearing brackets or rod ends and direct-drive motor mounts, you can rely on Triangle Manufacturing's Creative Engineering. For more information, samples or quotes, visit us at http://www.TriangleOshkosh.com.
Contact:
Kylie McGowan
Marketing Coordinator
http://www.TriangleOshkosh.com
info(at)triangleoshkosh(dot)com