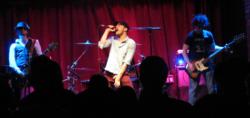 A minimum of 90% of the purchase price of the recordings will go to JDRF.
Martinsville, New Jersey (PRWEB) July 19, 2012
Hotathon releases an exclusive eight song EP of the live performances from the private Brenner Eugenides Tribute Concert held at Spike Hill in Brooklyn earlier this year. The EP is accompanied by a Hotathon campaign to raise awareness and funds for JDRF, the organization dedicated to improving lives and curing type 1 diabetes.
The recordings are by the NY musical artists Broken Glow, The Golden Age of Transit, Cousin Sleaze, Jim Earl, Carin Beam, Michael Benham and Chicks Throwing Bricks who all had a personal connection to Brenner. These Brooklyn artists are partnering with Hotathon to benefit JDRF and to celebrate the life of their friend Brenner Eugenides who died earlier this year after a life long struggle with type 1 diabetes.
Hotathon has partnered with the artists to record the performance, and produce and release an EP which is available for sale at hotathon.com. A minimum of 90% of the purchase price of the recordings will go to JDRF. The exclusive Hotathon to raise funds for JDRF will run for a limited time until August 31, 2012.
Mikal Celentano, founder of Hotathon explains, "Most benefit concerts are just that, a benefit concert. Hotathon and JDRF working together with the artists will enable us to keep this effort going well beyond the event, allowing us to continue to spread the word about Brenner, and about how others who suffer from diabetes can tap into JDRF to get the education and support they need to live healthy lives."
"I thank the JDRF for listening to our story, being open to help spread the word and wanting to be at the Not Just a Pretty Face musical memorial in his honor," said Kim Harty, Brenner's mother. "Brenner was a great person that shouldn't have died from Juvenile Diabetes. We learned two important things from his death that need to be shared. The first is that Juvenile Diabetes can kill quickly, within a matter of days. The second is that as a child most are sheltered in dealing with their disease. Our society and schools want inclusivity. This doesn't work when that child reaches adulthood and society doesn't care anymore that you are different. While Brenner was a champ at dealing with his disease as a child, he went through a period of being sick of being different, as do many with diseases or mental challenges in young adulthood."
Carin Beam of Chicks Throwing Bricks said, "A Tribute EP is especially great for anyone who couldn't be at the Spike Hill concert and who would want to share in the music, and want to support this effort."
About Hotathon:
For Artists, Hotathon is an online retail and promotional platform. For non-profit organizations, Hotathon is a commercial co-venture. For music fans and supporters of non-profits, Hotathon offers a unique experience to discover and share what matters most. For more information visit http://www.hotathon.com or call 917-922-5238.
About JDRF:
JDRF is the leading global organization focused on type 1 diabetes (T1D) research. Driven by passionate, grassroots volunteers connected to children, adolescents, and adults with this disease, JDRF is now the largest charitable supporter of T1D research. The goal of JDRF research is to improve the lives of all people affected by T1D by accelerating progress on the most promising opportunities for curing, better treating, and preventing T1D. JDRF collaborates with a wide spectrum of partners who share this goal.
Since its founding in 1970, JDRF has awarded more than $1.6 billion to diabetes research. Past JDRF efforts have helped to significantly advance the care of people with this disease, and have expanded the critical scientific understanding of T1D. JDRF will not rest until T1D is fully conquered. More than 80 percent of JDRF's expenditures directly support research and research-related education. Contact: JDRF/NY Chapter: 212-689-2860.