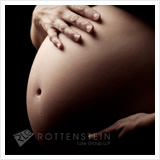 New York, NY (PRWEB) July 18, 2012
A June 20, 2012, article published in the online edition of the BMJ describes the findings of a study that examined pregnancies in Denmark between 1997 and 2009 and concluded that "risks of congenital malformations of the heart are increased for infants whose mothers were exposed to an SSRI during the first trimester," according to the study's summary. The study also finds that women who stopped their SSRI use six to nine months prior to getting pregnant are at a "similarly increased risk," according to a July 17, 2012, blog entry by David Healy, a psychiatrist, psychopharmacologist, and professor of Psychiatry in Wales.
How much of an increased risk are mothers-to-be who take SSRIs such as Zoloft facing? Specifically, the study found that "Children born to women who are on or have been on an SSRI have a roughly doubled rate of heart defects," Dr. Healy's blog states.
The Rottenstein Law Group is the compassionate and diligent advocate of people who have been injured as a result of Zoloft use. The firm's Zoloft Lawsuit Help Center contains social media features that allow for easy sharing on sites like Facebook and Twitter, which enables visitors to spread the word about the potential dangers associated with Zoloft. The firm encourages visitors to link to its sites from their own blogs and Web sites to spread information about dangerous drugs and defective medical devices.
About the Rottenstein Law Group
The Rottenstein Law Group is a New York-based law firm that represents clients in mass tort actions. The firm was founded by Rochelle Rottenstein, a lawyer with over two decades of experience in compassionate representation of clients in consumer product injury, mass tort, and class action law suits. For more information, please call (888) 9-ROT-LAW. (Attorney advertising. Prior results do not guarantee a similar outcome.)
Contact:
The Rottenstein Law Group, LLP
Rochelle Rottenstein, Esq.
321 W. 44th Street
Suite 511
New York NY 10036
(212) 933-9500 (office phone)
(212) 933-9980 (facsimile)
rochelle(at)rotlaw(dot)com
http://www.rotlaw.com