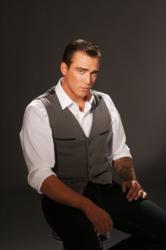 "I want to create a new legacy for my family"
Dallas, Texas (PRWEB) July 18, 2012
After an audition in Burbank a few weeks ago, the 23-year-old grandson of legendary Gone With the Wind actor Clark Gable, was selected as the third host of Cheaters®, replacing Joey Greco. Just a few days later, Gable was in Dallas shooting the first of the 44 cases that will be filmed for this upcoming season of Cheaters®.
"We just felt it was time to freshen up the show with a new host," says Bobby Goldstein, creator and executive producer of the long-running series. Goldstein created the show in 1995 and has been the driving impetus behind it ever since.
Gable admits, "I do have some minor concerns about this. But I feel it's what I want to do, and I can't live life in fear. I just take everything one day at a time. I can't say I'm not afraid. I am thrown into these environments. What I'm doing is dangerous. When you get people who are cheating on each other, it gets very, very heated in some of the arguments. I'm learning slowly."
On Gable's first show as the host, he accompanied a woman who had been in a long-term relationship. After they caught the boyfriend cheating red-handed, the women got into a very heated physical fight.
"I didn't realize what I was getting into," Gable says. "It's very serious. These people are throwing real punches. They're really hitting each other hard. This is a very sensitive subject. It's love. When they cheat on each other and get caught dead to rights, there is no explanation they can give, so what comes out is anger."
When asked about his legendary grandfather, Gable says, "The name means a lot to me. It opened a lot of doors. It also carries a lot of expectations. I want to create a new legacy for my family because I feel the ball got dropped by a generation. I want to pick it back up and do what I can with it."
Clark James Gable is an American actor and model. He has modeled for many designers including Prada, Chrome Hearts, Disney and most lately the Converse campaign. Gable started modeling at the age of 5 and is still modeling as part of his career today. Gable studied at the New York Film Academy and just completed his first film in Italy and music videos for Madison Cain and Lucy Schwartz.
About Cheaters® and Bobby Goldstein Productions, Inc.
Cheaters® is an internationally syndicated reality television show documenting the pain caused by lovers cheating on their partners. Cheaters® will be entering its 13th year of original programming this fall and will be broadcasted in high-definition for the first time. Cheaters® Season 13 will begin airing in some markets this summer and in others this fall. Cheaters® airs in most major domestic markets in the United States and airs in over 100 countries worldwide. Cheaters® is produced by Bobby Goldstein Productions, Inc. Cheaters® is distributed domestically by MG Perin, Inc.