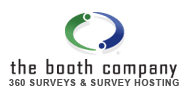 "The sales management survey gives the sales manager valuable feedback specific to the sales management role to create a starting point for on-going development."
Boulder, Colorado (PRWEB) July 24, 2012
The Booth Company (TBC), an international provider of 360 degree feedback and survey hosting solutions announces the release of a new Sales Management Survey that addresses the growing importance of including first-line and middle sales managers into an organizational development plan.
With the stagnant economy, organizations rely more intensely on the sales team to grow both existing and new revenue channels. First-line and middle sales managers are at the core of the sales process and a business-critical part of an organization. However these employees are often overlooked when it comes to training and development programs. Ironically, organizations seem to have a close eye on sales but often overlook the possibility of improving their sales team by including them in the company's organizational development initiatives.
The Sales Management Survey (SMS) not only helps sharpen communication and teamwork skills, but they are designed to stretch the sales skill development and goals into early stages of leadership competencies. "Sales managers have the unique responsibility of implementing sales strategies and achieving sales goals," explains Derek Murphy, CEO of The Booth Company, "this challenge is the basis for the sales management survey, giving the sales manager valuable feedback specific to the sales management role to create a starting point for on-going development."
The SMS is built on the Task Cycle® theory which is comprised of six sequential phases that are relevant to managing and leading for change. The SMS includes eighteen competencies measured under these six Task Cycle® phases: Establishing the Purpose, Laying the Foundation, Sustaining the Effort, Feedback, Driving toward Success, and Recognition.
For more information about the SMS Survey or any other survey that The Booth Company offers, please contact Hank Curtis at 303.865.3776
About The Booth Company
The Booth Company publishes and administers 360 feedback surveys based on the Task Cycle®, a validated theory of leadership and management roles. Its comprehensive set of surveys measure the fundamental skills of mission-critical organizational roles, including executives, first-line and middle managers. The survey results are compared to continuously updated industry and country norms. Since 1972, The Booth Company has distributed its surveys and feedback workshops internationally through corporate universities and an exclusive network of certified senior executive coaches.
For clients utilizing their own survey content, The Booth Company offers flexible survey hosting services, as well as statistical and psychometric consulting. It also provides advanced reporting opportunities, with a variety of aggregate reports ideal for group benchmarking and strategic planning purposes.