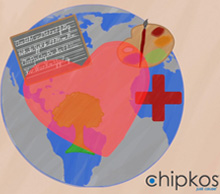 "We aim to disrupt the $1.5 billion dollar cause-related marketing industry, by giving the power to the people to tie online shopping with social good," says CEO, Ruben Dua.
Los Angeles, California (PRWEB) July 18, 2012
Chipkos today announces their "Shop for Good™" online shopping destination that allows people to shop for the items they already buy at discount prices and have a portion of the sale go to the non-profit organization of their choice.
Prior to Chipkos, if consumers wanted to engage in charitable shopping they were forced to purchase specific items and support specific charities that were pre-selected by the companies. As the vehicle to marry any product with any cause, Chipkos is revolutionizing the way that the 'product plus cause' market operates.
"Gone are the days where corporate America chooses what social movements to make", says CEO, Ruben Dua. "Consumers know what products they like, and they know what cause they care about. Chipkos is about letting the consumer decide what movement they want to start, and that freedom of choice is the biggest movement of them all."
The Chipkos "Shop for Good" service comes at a very appropriate time. According to a recent study conducted by Cone, 80% of Americans would switch to a brand that supports a cause and 83% wish more cause-related products existed.
"The Chipkos charitable shopping site is a revolutionary vehicle to allow consumers to make their regular purchases support the charities of their choice," says SaveNature.Org Director, Norman Gershenz. "We look forward to being part of the movement of letting everyone engage in product purchases to facilitate charitable donations."
Chipkos' patent-pending e-commerce technology marks the first to synergize cause-related marketing, social media and online shopping. The company is offering its shopping platform to everyone free of charge.
About Chipkos
Chipkos is revolutionizing social shopping by allowing people to shop for their favorite items and support the cause of their choice every time they make a purchase. The company features hundreds of popular stores including Amazon, Target, Kohls, Toms, O'Neill, Claire's, Blue Nile, Puma, Sketchers, Guess, Journeys, Pacific Sunwear, Threadless, Swarovski, bebe and Guitar Center. Chipkos has been featured by TIME, NY Magazine, Wall Street Journal, NY Times, AOL, Huffington Post, TreeHugger, Glamour Magazine and more. Shop for good. http://www.chipkos.com