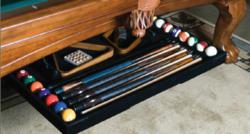 Collierville, TN (PRWEB) July 18, 2012
With more and more people purchasing billiard tables than ever before, Legacy Billiards realized that an age-old problem needed a fresh solution: billiard game accessories and their inevitable clutter. The beauty of a quality-constructed pool table is diminished when pool cues, racks, balls, and chalk are left in disarray. For many billiard table enthusiasts, gathering game accessories together after a game and seeing to their proper storage has always been a drudgery, so much so that some billiard players don't even bother with it. Without a protective containment system, accessories' integrity and longevity may be compromised. Always ahead of the gaming curve, Legacy identified this need and addresses it perfectly with its latest game room organizational triumph: The Perfect Drawer, a pool cue rack and billiard storage drawer.
Masterful in its simplicity, The Perfect Drawer can house all game cues, brushes, balls, racks and chalk underneath most 7 -foot or 8-foot billiard tables, out of sight (and out of mind). Constructed of the same solid hardwood found in every Legacy table, The Perfect Drawer is professionally installed, and allows for quick, painless clean up after a great game of pool. The Perfect Drawer has a soft lining to protect game accessories when they are not in use.
Because of The Perfect Drawer's revolutionary design, it is already patented (U.S. Patent no. US8177650). To find out more about the most amazing innovation in billiards since the two-piece cue, visit The Perfect Drawer online: theperfectdrawer.com