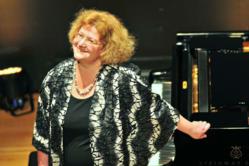 Vancouver, BC (PRWEB) July 18, 2012
Celebrated German Pianist Elena Margolina will be making a rare appearance in Vancouver on July 22 at the Tom Lee Music Hall. This German pianist will be in recital at 2:30PM with a light reception to follow.
This is the second appearance by Elena Margolina in Vancouver. Elena is the winner of the 1st prize of the 5th Dortmund International Schubert Piano Competition, is often engaged throughout Europe and overseas. With performances with leading orchestras, such as the WDR Symphonic Orchestra Cologne, Scottish National Orchestra, the Berlin Radio Orchestra, the Vancouver music community is in for a treat.
Elena Margolina has a great number of TV and radio recordings to her credit from the BBC, the WDR, the Hessen Radio, the Denmark Radio, St.-Petersburg Radio, the Voice of Israel and as well on German Radio. Along with many CD's she has released, she won the SUPERSONIC 2008 Prize awarded by the Magazine PIZZICATO Luxemburg.
"The listener feels Elena Margolina`s power and individuality of the Russian piano school: she has a wonderfully round sound and plays precisely, highly romantically, sensuously and still entirely controlled". Said Prof. Dr. Joachim Kaiser, the most distinguished German critic of music.
Elena Margolina's recital will take place at 2:30PM, July 22 at Tom Lee Music Hall (929 Granville St.), she will perform her renowned rendition of Choros N°5 Alma Brasileira by Heitor Villa-Lobos and Fantaisie op.49 by Frederic Chopin. To learn more about Elena Margolina's concert in Vancouver please visit:
To learn more about Elena Margolina, please visit: http://www.margolina.de/
About Tom Lee Music Canada
Tom Lee Music has been bringing music making to the Greater Vancouver and Vancouver Island communities since 1969. With 9 retail locations in low mainland Vancouver, Tom Lee Music is now one of the largest full-line musical instrument retailers in North America. Known for supporting the local music community, Tom Lee Music has received numerous awards in recognition of our dedication to music excellence and support of many community organizations. Tom Lee Music is the exclusive Steinway dealer in B.C. since 1978. For more information, visit http://www.tomleemusic.ca