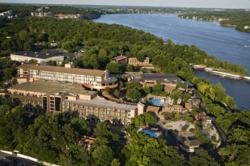 Lake Ozark, Missouri (PRWEB) July 19, 2012
Built in 1964 by the late Harold Koplar, The Lodge of Four Seasons remains one of today's few fourth-generation, family-owned resorts in the United States. Koplar's daughter, Susan Koplar-Brown, and her son Mark preside over daily operations of The Lodge, ensuring the Brown family's tradition of Midwestern warmth and hospitality.
Part of that hospitality includes on-site restaurants with delicious food to fit any taste and any budget. In fact, readers of AAA Midwest Traveler chose HK's Steakhouse and Grille as one of their top two best fine dining restaurants.
Not only does The Lodge offer a serene setting and great food, but the property includes three championship golf courses, The Cove, The Ridge and the Jack Nicklaus designed Porto Cima. Readers of AAA Midwest Traveler named Lake of the Ozarks as the best place for the best fall color spot and best golf weekend.
Mark Brown, president of The Lodge of Four Seasons acknowledged the importance of receiving these accolades.
"On behalf of my family and the entire Lodge of Four Seasons staff, we are grateful to the readers of AAA Midwest Traveler magazine for this prestigious honor and we will continue to strive to meet the expectations of our very important guests."
The 2012 Results are published in the travel magazine's July/August issue. Nominees were named and the top three in 15 categories were tabulated in March. The finalists were listed in the May/June issue and those ballots were counted to decide the winners.
For the full story, visit the magazine's Web site, http://www.AAA.com/Traveler. AAA Midwest Traveler is mailed bi-monthly to approximately 560,000 AAA member households in Missouri, southern Illinois, southern Indiana and eastern Kansas.
For more information about The Lodge of Four Seasons, please visit our website: http://www.4seasonsresort.com or for reservations, please call 573.365.3000 or to reserve a tee time phone 573.365.8574.
AAA Midwest Traveler magazine is available online: http://www.ouraaa.com/traveler/mid/index.html
# # #