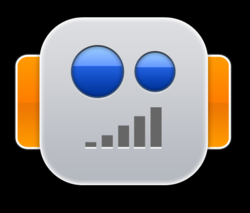 New York, NY (PRWEB) July 18, 2012
Digi always has to know when to pack an umbrella to keep from getting caught in the rain – water doesn't mix well with his wires. He had to find an easier way to get the weather than just looking out his window every morning. Digi is now just as informed as a Weather Man with today's App of the Day, "Weather App!"
"Weather App" links to all of the top weather sources including The Weather Channel and AccuWeather, as well as live feeds for news and real time updates. It also links to numerous weather related Twitter accounts, so Digi can be on top of any breaking weather updates throughout the day.
Rain or shine, Digi can now be prepared and know when to pack his umbrella or when to plan a fun day outside in the park with "Weather App."
Where the app can be downloaded for free:
Google Play
Why Digi likes it:
There are so many different apps that provide the weather forecast, and now they can all be found in one place and can be easily accessed through The Weather App. Made with appsbar, this app was free to make using appsbar's iPhone app builder, Windows app builder or Android app builder, and even better, it's free to download.
How anyone can make an app:
Simply join the community with an email address and get started on an app. Digi, our loveable robot app coach, is there to help at each step.
About appsbar:
http://www.appsbar.com was launched in 2011 to fill the gap between over-simplified apps and costly, professionally-produced apps. appsbar.com apps each average 500 to 1,000 downloads within the first day of being published. In 2012, appsbar became the leading developer of Android apps with more than 10,000 published. appsbar was developed by Appsbar Inc., a company founded by Scott Hirsch. appsbar has grown to a community of everyday app developers and opened the way for businesses and people to engage with friends and brands online through the development of customizable digital tools. For company contact information and partnership opportunities, visit http://www.appsbar.com
For More information:
PR (at) appsbar (dot) com