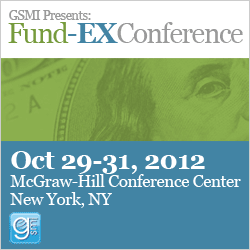 those of us in the finance industry can only keep ourselves forewarned and forearmed by participating in forums like Fund-ex where we can exchange experience, ideas, and insights among ourselves."
SAN DIEGO, California (PRWEB) July 19, 2012
The list of distinguished faculty members joining the speaker roster at Fund-EX, the upcoming event where the role of technology in the global finance and investment culture is defined, scheduled for October 29-31, 2012 at the McGraw Hill Conference Center in NYC, continues to grow.
According to Jay Martillo of Min Risk Software, a speaker and sponsor of the event, "As high frequency trading takes over the markets, individuals and financial institutions need the latest and greatest technology to stay profitable. Software engineers will try to pitch their products by baffling potential customers with BS. As trading algorithms lose their efficacy ever faster and hackers are cracking algorithms or security more frequently and more quickly, those of us in the finance industry can only keep ourselves forewarned and forearmed by participating in forums like Fund-ex where we can exchange experience, ideas, and insights among ourselves."
Among other topics covered at the Fund-EX conference and workshop are: Transforming the Trading Station into a Strategy Station; Implementing a Data Management Control Environment in Financial Services Organizations; Combating Trading Volatility and the Destabilizing Effects of a Financialized Commodities Market; NYSE Floor Brokers for High Frequency and Algo Traders; Flash Back to the 'Flash Crash:' What Rules & Standards Can Be Anticipated for Tomorrow's Trading Systems. With three concurrent sessions, attendees can design their own conference experience based on their individual focus. Special discounted rates are available to buy-side attendees.
Fund-EX is organized by the Global Strategic Management Institute (GSMI,) an organization that develops executive conferences, exhibitions, and leadership trainings for the world's leading business decision-makers. Industry executives can learn more about, and register for, Fund-EX at:http://fundexconference.com/
About GSMI: GSMI is dedicated to creating rich environments for learning, networking and ensuring their attendees have great experiences. GSMI hosts dozens of conferences, around the world, each year. They are leaders in their industry and strive to always provide the best, most relevant, speakers, quality workshops and the right environment to both network and learn.