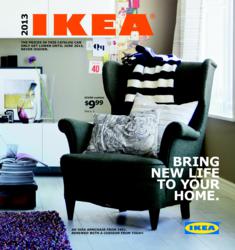 From the first soft blanket that kept your newborn warm, to the favorite pillow that you can't sleep without, textiles transform a living space into a home.
Conshohocken, PA (PRWEB) July 18, 2012
IKEA, the Life Improvement Store, announced today that the new 2013 IKEA U.S. catalog will be available to consumers starting this August. IKEA understands the important role of textiles in making life at home warm, snuggly, lively, creative, and easy. With that in mind, the pages of this year's catalog are filled with new products and inspiration for home design lovers, particularly celebrating the use of textiles to create comfortable, personal, and affordable touches in every area of the home. In addition, a free new smartphone/tablet app featuring innovative image recognition technology offers shoppers additional catalog inspiration on-the-go.
Home furnishing textiles, including blankets, curtains, cushions, towels, fabrics, and rugs, offer an attractive, quick and easy change and a way to give old things new life in the home. In creating new textile patterns, IKEA designers drew inspiration from history, memories, movies, and more, leading to a wide range of textiles that suit different tastes.
"As the Life Improvement Store, we recognize how textiles can make a big difference in every home and for everyone living there," says Marty Marston, Product Public Relations Manager, IKEA U.S., "From the first soft blanket that kept your newborn warm, to the favorite pillow that you can't sleep without, textiles transform a living space into a home."
In the 2013 catalog, readers will learn more about how IKEA textiles bring new life, comfort creativity to their homes in a sustainable way:

NEW LIFE: Textiles offer an attractive, quick and easy change and a way to give old furnishings new life in the home, and is one of the most affordable ways to transform your home. Instead of repainting an entire room, switch in the new KAJSMAIA curtains to make a bold statement. Or, use a cushion from the LAPPLJUNG textile collection, which draws from global influences, handmade traditions and graphic patterns, to refresh an old sofa.
NEW COMFORT: Textiles are vital to making everyday life feel better and making hard things feel soft and personal. IKEA offers an option for everyone – whether it's snuggling up in front of the TV with the MALIN throw or sinking your toes into the FLOKATI rug.
NEW CREATIVITY: Like fashion for the home, textiles give you the freedom to express yourself and can be a great outlet to showcase your personal style. From bright colors and soft stripes to creamy linens, realistic roses and even sailing ships, at IKEA there's a textile pattern and product for everyone. For example, with its leafy motifs, the new GURINE fabric gets its inspiration from nature and flora. And the TIDNY fabric features graphics of a varied cast of characters, places and things. You can use fabric pens to color it in any way you like, to match the colors in your room or to bring out a theme in the pattern.
SUSTAINABLE LIVING: Creating a better everyday life for the many people includes doing what we can to take better care of the environment and the earth's resources. As an active member of the Better Cotton Initiative, IKEA is helping to educate farmers to grow cotton using more sustainable methods including reducing water, pesticide and fertilizer use. IKEA also utilizes other natural, renewable materials such as lyocell, flax and ramie, and repurposes leftovers from production into raw materials for other products. For example, the PALMLILJA quilt cover and pillowcases are made from a blend of lyocell and cotton. And the EIVOR FÅGEL cushions are filled with leftovers from quilt production, making use of materials that would be otherwise wasted.
2012 marks the 62st anniversary of the first IKEA catalog. This year, the catalog will be available in 62 printed editions, in 27 languages and in 40 countries/territories. Consumers can request a printed or digital copy of the 2013 catalog at http://www.getmy2013catalog.com, as well as sign up for inspirational emails and mobile text messages.
In addition, beginning on July 31, 2012, shoppers can visit http://www.IKEA-USA.com/Catalog to view the digital version of the catalog online or to download the new IKEA catalog app for smartphones and tablets (iOS and Android) to browse on the go. The app is free and features innovative image recognition technology. Users can scan select pages and images in the printed IKEA catalog to access extended content, including 3-D models, image galleries, videos, "x-ray" (e.g., peeking behind doors into the interior of cabinets) and interactive features such as adding curtains to a room.
For additional inspiration, consumers can visit the IKEA design blog "Design by IKEA" and "Share Space," a photo-sharing community at http://www.theshare-space.com/. Fans can also connect with IKEA on Twitter (https://twitter.com/DesignByIKEA) via @DesignByIKEA and on Facebook (http://www.facebook.com/IKEAUSA).
*For Press: Please visit our multi-media release at http://www.2013Catalog.com for downloadable press information on the catalog, hi-res product images, videos and additional background materials. Also available at the site is a press preview of the digital catalog via a link to a beta version, accessible by press only from July 18 through July 31.
ABOUT IKEA
IKEA strives to be 'The Life Improvement Store,' and since its 1943 founding in Sweden, has offered home furnishings of good design and function, at low prices so the majority of people can afford them. There are currently more than 330 IKEA stores in 40 countries/territories, including 38 in the U.S. IKEA, the world's leading home furnishings company, incorporates sustainable efforts into day-to-day business and supports initiatives that benefit children and the environment. For more information, go to IKEA-USA.com.
# # #