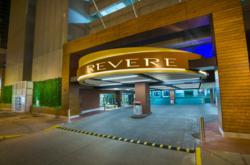 The facilities at Revere Hotel are so grand that they capture Boston's rich history and innovative spirit
Boston, MA (PRWEB) July 18, 2012
Boston's newest hotel is one for the history books.
Northwood Hospitality proudly announces the grand opening of Revere Hotel Boston Common, which brings an inventive and contemporary décor to the property previously occupied by the Radisson Boston. Revere Hotel was designed by BBGM Interiors to channel the city's infamous revolutionary spirit and is outfitted with products and designs from local talent. Guests can learn more and make reservations at RevereHotel.com.
The boutique hotel has 356 glamorous rooms and suites, with highlights like hardwood entryways and stunning views of the Boston skyline. Relaxing room amenities include two sets of Frette robes and slippers, a JBL iPad Speaker System, 42" Sony HDTVs, working stations, complimentary WiFi, 24-hour fitness and bath amenities from skoah, a local favorite in skin care. Suites have separate sleeping and living areas, walk-in showers (and some with full bathtub), and two balconies. The 24th floor Presidential Suite features a conference table for eight people, a Palatial King bed, an optional adjoining bedroom with two queen beds plus an additional full bathroom, and a personal library curated by Brookline Booksmith.
Revere Hotel Boston Common's onsite Emerald Lounge is a glamorous scene for cocktails and sophistication. The sprawling venue is 6,000 square feet and is an allusion to the city's Emerald Necklace. The space is transformative, great for private events or casual afternoon drinks.
Executive Chef Michael Kelley heads the team at Rustic Kitchen Bistro & Bar, a storied restaurant serving Italian-Mediterranean fare in a bistro-style environment. It is famously home to "The Cooking Show," which films every Friday evening and has taped more than 500 performances. Favorite dishes at Rustic Kitchen include filet mignon, cider-glazed salmon, daily-made hand-crafted pasta, and gourmet pizza made in a state-of-the-art wood-burning oven. The restaurant also accommodates private dining groups for up to 40 guests.
Event spaces at Revere Hotel Boston Common are unparalleled. Theatre 1 features 225 luxurious seats in stadium elevation, ideal for performances or business presentations, while Space 57 is practically a blank canvas, allowing total customization by event planners in its 6,700 square feet. It is perfect for fashion shows, wedding receptions, and theatre in the round.
With the opening of Revere Hotel Boston Common, hospitality standards in New England have reached a new level.
"The facilities at Revere Hotel are so grand that they capture Boston's rich history and innovative spirit," said Bryan Barbieri, Director of Public Relations. "People will really enjoy it all—the food, drinks, amenities, guest services, everything. It's all quite wonderful."
About Revere Hotel Boston Common
Revere Hotel Boston Common is a boutique hotel that channels the revolutionary spirit of Boston through its grand accommodations, innovative décor, and expansive facilities. With 356 contemporary and luxurious rooms and suites, uninterrupted views of the Boston skyline, and the glamorous onsite Emerald Lounge—perfect for cocktail conversation or private parties—Revere Hotel takes hospitality to new standards of excellence. Dine at the famous Rustic Kitchen Bistro & Bar, home to the weekly tapings of "The Cooking Show." Guests can host a conference or performance at Theatre 1, outfitted with 225 luscious, stadium seats. Another onsite venue, Space 57, is 6,700 square feet of blank canvas, customizable for large events or private receptions.
###