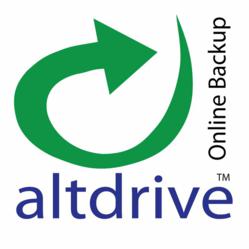 Protect your computer files by putting them in a higher place.
Seattle, WA (PRWEB) July 31, 2012
AltDrive Online Data Backup to offer white label service for IT professionals throughout North America. Qualified providers of Internet and IT services partner with AltDrive to custom brand and resell its advanced secure managed online backup service to their business customers. The remote backup Biz Service can accommodate thousands of customers and their computers. Interested parties can fill out the contact form on the website at https://altdrive.com/partners.html.
Some features of the offering include:
No setup fees
No branding fees
No term contracts
Recurring monthly revenue stream
Hosted on AltDrive Backup's infrastructure
Customized plans and pricing
Custom Management Portal may be shared with customers
Fully branded reseller and end-user online backup web portal
Custom reports
Advanced online backup system - custom backup sets, schedules, compression, deduplication, incrementals, throttling, fine-grained sets, server support, etc.
IT Service Provider performs level 1 support. AltDrive provides further support.
For IT providers, MSP providers, and colocation facility operators, the customized backup service can strengthen the brand, enhance offerings and increase monthly revenue.
Potential partners are required to show a sufficient level of monthly sales and / or existing customer base to participate.
Many businesses do not back up their important data regularly or at all. They do not have the time, expertize, or it is too complicated. But it happens too often - mistakes, computer viruses, negligence, fire, flood, theft, hardware problems - when files are lost, often they cannot be recovered. For a business, that can mean loss of everything.
AltDrive security was designed for the paranoid. It uses a super strong AES-256 CTR mode data encryption cipher with a private key so that even AltDrive personnel cannot view customer's files - a must for savvy businesses.
About AltDrive
Established in 2005, founded by a serial entrepreneur with security, scalability, and usability backgrounds, and located in Seattle, AltDrive's mission is to ensure that all computer data is securely backed up and versioned. The company is viable and debt free having been developed without outside investor capital. Visit http://altdrive.com for more information or to backup your computers.