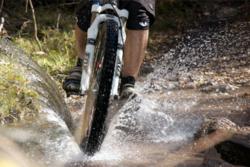 Santa Fe, New Mexico (PRWEB) July 17, 2012
The Film 'Strength in Numbers' explores the shared experiences regardless of location or language that connects all mountain bikers. Backcountry free-riding, dirt jumping, high mountain single-track, World-cup racing… Mountain biking is as diverse a sport as the people who ride. The Santa Fe Fat Tire Society invites both visitors and locals to Santa Fe to join the organizations for a screening of 'Strength in Number's. 'Strength in Numbers' will play one-night-only, at the CinemaCafé, at 6 and 8:30 p.m., August 3, 2012. Great mountain biking prizes will be raffled to ticket holders at each showing. All tickets will be sold at the door for $10 each. The proceeds will benefit the Santa Fe Fat Tire Society. The benefit is featured on Hutton Broadcasting radio stations in Santa Fe, New Mexico. Hutton Broadcasting is the parent company of SantaFe.com.
A new action sport documentary, 'Strength in Numbers', is a rally call to connect all mountain bikers. The film captures a true way of life, from the world's best pros to those who are just learning to love the sport. 'Strength in Numbers' features over 30 different individuals, including: Andrew Shandro, Anthony Messere, Adam Billinghurst, Brandon Semenuk, Cam McCaul, Gee Atherton, Graham Agassiz, Matt Hunter, Rachel Atherton, Rene Wildhaber, Ryan Howard, Steve Smith, Thomas Vanderham and Wade Simmons. Anthill Films spent two years traveling to some of mountain biking's most iconic locations in search of core action and compelling stories. Their mission was to capture the full diversity of the sport – from the World Cup Circuit to back yard dirt jumps; from the largest bike park in the world in Whistler to remote high alpine trails in Nepal; from the endless free-ride lines in Utah to stunts built in the rain forests of British Columbia.
The Santa Fe Fat Tire Society thanks all the local sponsors for their help in bringing Strength in Numbers' to Santa Fe which include: Bicycle Technologies International, Image Ratio Design and Printing, New Mexico Bike N' Sport, Project 101.5, The Santa Fe Reporter, Southwest Motorsport Resource and Thomas Properties.
About the Santa Fe Fat Tire Society:
The Santa Fe Fat Tire Society (a chapter of the International Mountain Bicycling Association) is dedicated to the sport of mountain biking and to providing riders of all levels the opportunity to meet, socialize, improve their skills and, most of all, to have fun. We are strong advocates for responsible mountain biking and for the evelopment, creation, and maintenance of multi-use trails. Learn more about the Santa Fe Fat Tire Society at http://www.SantaFeFatTireSociety.org
About SantaFe.com:
SantaFe.com provides Santa Fe and visitors to Santa Fe alike the most current interactive platform for events, music, arts, business, dining, and lifestyle. SantaFe.com is a division of Hutton Broadcasting, located at 2502 C. Camino Entrada, Santa Fe, NM 87507
Contact Information:
Scott Hutton
SantaFe.com / Hutton Broadcasting
(505) 471-1067 (Media inquiries only, please)