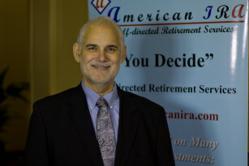 The key to all investments is to be sure they do their 'due diligence' and to consult with professionals to ensure their interests are protected.
Atlanta, GA (PRWEB) July 20, 2012
According to USA Today, first time home buyers are finding it more difficult to buy homes - Jim Hitt, CEO Of American IRA-a national self-directed IRA provider, offers an expert opinion on why that is and a possible solution.
Jim Hitt shares "We have a lot of self-directed IRA clients who are seizing the opportunity to purchase real estate at bargain prices. Some of these investors are planning to flip those properties others are planning to rent the properties out, still others are favoring the 'buy and hold' strategy. No matter their strategy we are definitely seeing a recent swell in real estate purchases in our office."
The USA Today article 'Housing isn't a buyer's market for many first-timers' is spot on with their assessment that the swell of investors who are purchasing homes is making it difficult for first time home buyers to obtain their first home. First time home buyers are finding that they are competing with investors who have large down payments or can even pay cash for the homes. The homeowners are accepting the offers of the investors because their higher down payments and/or cash offers mean quicker closings. That leaves the first time homebuyers out in the cold. The article goes on to explain that with the increase in rental fees and the decrease in interest rates, many people are finding that buying their own home will result in a lower monthly payment.
Jim HItt interjects "We have established that the current real estate market is creating opportunities for investors-so what about those first time home buyers? First time home buyers may want to consider looking outside the traditional real estate market for their home. There are many wholesalers who buy homes to resell them. First time home buyers can find a wholesaler and purchase their home from the wholesaler at wholesale prices. Wholesalers are more willing to deal with first time home buyers and they often have an inventory of homes to choose from."
The key to all investments is to be sure they do their 'due diligence' and to consult with professionals to ensure their interests are protected.
About:
American IRA, LLC was established in 2004 by James C. Hitt in Asheville, NC.
The mission of American IRA is to provide the highest level of customer service in the self-directed retirement industry. Mr. Hitt and his team have grown the company to over $250 million in assets under administration by educating the public that their self-directed IRA account can invest in a variety of assets such as real estate, private lending, limited liability companies, precious metals and much more!
To learn more about American IRA, LLC and self-directed IRAs/self-directed Solo 401(k)s, please contact our office at 1-866-7500-IRA(472).
As a self-directed IRA administrator they are a neutral third party. They do not make any recommendations to any person or entity associated with investments of any type (including financial representatives, investment promoters or companies, or employees, agents or representatives associated with these firms ). They are not responsible for and are not bound by any statements, representations, warranties or agreements made by any such person or entity and do not provide any recommendation on the quality profitability or reputability of any investment, individual or company. The term "they" refers to American IRA, located in Asheville, NC.