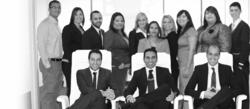 Beverly Hills, CA (PRWEB) July 18, 2012
The Los Angeles Personal Injury Lawyers at Banafsheh, Danesh & Javid, P.C. have added another million dollar settlement to their collective resumes (Orange County Superior Court, Case No.30-2011-00515475). Their client, Patricia, was involved in an auto accident on SR-91 near Knott Ave in Buena Park, CA.
The accident, which occurred on June 27, 2010 at approximately 12:04 a.m. happened after Patricia lost control of her vehicle traveling westbound on SR-91. After regaining control of her vehicle and coming to a stop within the #3 and #4 lanes, she backed up in order to straighten out her vehicle. While her car was in the 2nd lane, the defendant in the accident rear ended her vehicle.
The force of the impact knocked Patricia unconscious. She had to be extricated from the vehicle by bystanders. Shortly thereafter, paramedics arrived to transport her to a local hospital where her various injuries could be tended to.
Initially, the officer who filed the accident report judged that Patricia, BD&J's client, was at fault in the accident. The report cited that Patricia must have been traveling at an unnecessarily high rate of speed to lose control of her vehicle and her resulting attempts to straighten her vehicle out on the highway were the cause of the accident.
The car accident lawyers at BD&J argued that this was not the case. That in fact, the individual who rear ended Patricia was at fault in this incident. His inability to avoid her car was the most significant cause of the accident. By substantiating this argument through the use of expert witnesses and drawing on their years of experience, the Los Angeles car accident lawyers were able to obtain the $1 million dollar policy limits settlement for their client.
The client's injuries included multiple rib fractures, potential liver and thyroid lacerations and Diffuse Axonal Injury coupled with severe intracranial hemorrhaging.
According to the National Institute of Neurological Disorders And Stroke (NINDS), Diffuse Axonal Injury is a very serious form of traumatic brain injury, common following car accidents. Also called shearing, the injury involves damage to individual nerve cells and loss of connections among neurons. This can lead to a breakdown of overall communication among neurons in the brain. The firm's website has more information on Traumatic Brain Injuries.
About Banafsheh, Danesh & Javid, P.C.
Banafsheh, Danesh & Javid, P.C., is a well-respected personal injury law firm based in Beverly Hills, California, that represents accident and injury victims throughout Los Angeles County and surrounding areas, including Orange County, San Francisco, San Diego, Riverside, San Bernardino and all points in between. The firm's Los Angeles personal injury lawyers handle cases on a contingency fee basis, not charging a fee unless they can gain a recovery for their clients. They practice all form of personal injury law including but not limited to car accidents, motorcycle accidents, truck accidents, pedestrian injuries, brain injuries, wrongful death and other serious injury claims. The firm also features a staff that speaks Spanish, Italian, Farsi and Hebrew in addition to English.
To learn more about the firm, including additional client testimonials and summaries of the firm's verdicts and settlements, call (800) 820-1111 or visit their website at http://www.bdjinjurylawyers.com.