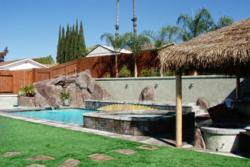 Many homeowners are turning their backyards into a vacation getaway complete with artificial turf, palapas, bbq pits, outdoor kitchens and more.
San Diego, CA (PRWEB) July 31, 2012
A major trend is on the rise in home remodeling. Many homeowners are turning their backyards into a vacation getaway complete with artificial turf, palapas, bbq pits, outdoor kitchens and more. Now it's easier than ever to transform outdoor living space into a dream destination. All it takes is a little installation.
San Diego's premier source for turf installation has expanded their services to offer homeowners waterwise outdoor living solutions. Artificial turf has become a mainstay in outdoor landscapes. Turfers respect environmental water waste while enjoying lush, green grass. It is an aesthetic, safe, sanitary solution to high-maintenance grass lawns.
Dream outdoor environments have transcended beyond turf, transforming unused space into functional, practical living rooms. Paving stones are used to line artificial turf. Their versatile shape allows flexibility of design, laying pathways, patios, pool decks, and driveways. They are highly durable, preferred to the more traditional asphalt and poured concrete. Concrete Pavers reduce storm water run-off while maintaining the durability of artificial turf. The stones are permeable, allowing rainwater to recharge to the ground. Pavers are a practical solution for waterwise outdoor living. They beautify backyards and bring functionality to sustainable design.
Once the groundwork is laid, dream outdoor space is brought to life by a variety of installation options. Outdoor kitchens enable a fantastic, open-air entertainment area complete with sink, refrigerator and oven. BBQ pits encased in custom structures are often centerpiece in outdoor living spaces. Palapas come in various shapes and styles, offering a canopy refuge from the hot sun. Rock pool slides make for the ultimate backyard retreat. Putting greens allow golfers to get their game on. Playgrounds. Enough said.
Customized installations transform outdoor environments and reinvigorate home lifestyles. Dream space is just an installation away.
Trends in outdoor living continue to change, and so must the scope of a successful company. Home Turf is a trusted name in artificial grass, providing professional installation at affordable prices. Their expanded design and online services now make it easier for clients to turn outdoor space into an oasis escape. Visit Home Turf's online photo gallery and envision your dream outdoor living space. They now offer a convenient job locator that points to on-site destinations so clients can see completed synthetic grass installations. The website even hosts an online store for clients who desire a convenient shopping experience.
Home Turf's expanded services take the hassle out of home remodel, making dream outdoor environments an easy reality.
To learn more about installation trends and the service capabilities of Home Turf, or to schedule an interview, please contact Lacey Grant at (619) 467-7784 or email info(at)sdhometurf(dot)com.