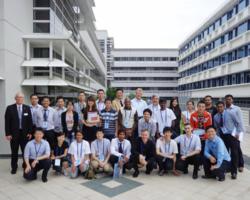 Since the inception of SPIE in 1955, the society has helped industry meet their goals of building student relations and promoting education.
(PRWEB) July 18, 2012
High-level talks on laser medicine, advanced imaging, optical measurement, and laser markets complemented by visits with industry leaders and university mentors highlighted the recent inaugural FOCUS student leadership workshop. Sponsored by SPIE and supported by Edmund Optics, the event was organized by the SPIE Singapore Student chapter and held 11-13 July at the Nanyang Technological University.
The FOCUS conference grant program was established to provide SPIE student leaders with funds to organize regional student leadership workshops offering professional development and networking opportunities. Two grants will be awarded by SPIE each year, and chapters are encouraged although not required to collaborate in the organization of the conference.
Edmund Optics' involvement is part of the company's Building Bridges between Education and Industry initiative, and included travel funding for two students from Beijing to attend as well as a presentation by Amber Czajkowski, Coating Manager for Edmund Optics Singapore. Other speakers were:

John Ambroseo, President and CEO of Coherent
SPIE President Eustace Dereniak, College of Optical Sciences, University of Arizona
Andrew Hawryluk, Senior Vice President and CTO of Ultratech
Kunio Awazu, Osaka University
Hiroshi Yoshikawa, Nihon University
David Brady, Duke University
Perry Ping Shum, Nanyang Technological University
Jean-luc Doumont, professional development trainer
Chee Kai Chua, School of Mechanical and Aerospace Engingeering, Nanyang Technological University
Chuangui Zhu, Sunny Instruments Singapore, representing the Optics and Photonics Society of Singapore
Andrew Brown, SPIE Director of Global Business Development.
During the conference, Dereniak presented SPIE scholarships to Lei Huang of Nanyang Technological University and to Eden Teoh Kang Min, Parthasarathy Sreemathy, and Watt Sook May of Raffles Girls' School. The Raffles team also won top prize for student presentations at the event. The scholarships are among a total of 140 such awards being presented by SPIE in 2012.
Other student organizations cooperating in organizing the event along with the Singapore chapter were:

SPIE Sichuan University Student Club
SPIE IIT-Madras Student Chapter
SPIE Osaka University Student Chapter
SPIE Beijing University of Posts and Telecommunications Student Club
SPIE Chulalongkorn University Student Chapter
SPIE Multimedia University Student Chapter (Malaysia).
Since the society's inception in 1955, SPIE has helped industry meet their goals of building student relations and promotion by supporting education and professional development through exceptional programming, and by connecting qualified students with employers.
About SPIE
SPIE is the international society for optics and photonics, a not-for-profit organization founded in 1955 to advance light-based technologies. The Society serves nearly 225,000 constituents from approximately 150 countries, offering conferences, continuing education, books, journals, and a digital library in support of interdisciplinary information exchange, professional growth, and patent precedent. SPIE provided over $2.7 million in support of education and outreach programs in 2011.