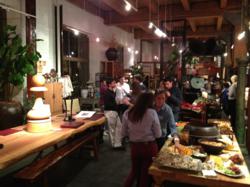 "INJA is excited to introduce Heritage Salvage's WoodTalks products to our collection.We look forward to presenting our clients with versatile possibilities inherent in reclaimed wood.",
- Inja Yang, Owner INJA
Petaluma, California (PRWEB) July 18, 2012
Heritage Salvage announces its expansion to San Francisco Design District. Custom Wood Furniture, Exotic Wood Slabs and WoodTalks Reclaimed Wood Flooring may now be purchased at INJA, 215 15th Street. Custom furniture orders including tables, benches and mantels may also be placed from the new location.
"INJA is excited to introduce Heritage Salvage's WoodTalks products to our collection," shares owner Inja Yang. "We look forward to working with our clients and presenting them with new versatile possibilities inherent in reclaimed wood. I believe our clients will also be delighted to discover the beauty of handcrafted reclaimed furniture made to order from Heritage Salvage."
Heritage Salvage is located in Petaluma, California with three acres of reclaimed building materials, flooring, wood slabs and hand-hewn beams. A custom shop on premises produces made to order reclaimed furniture for restaurants, businesses, and homeowners. If you can draw it on a napkin or show a picture, Heritage Salvage can build it.
"We are enthusiastic to be able to provide access to our materials and furniture from this central location in the Design District. We will be showcasing our products that are in highest demand, large and exotic wood slabs, hand hewn beams and flooring, as well as offering customer's the ability to custom order reclaimed wood furniture," says Heritage Salvage owner Bug Deakin.
With over forty restaurants completed across the San Francisco Bay Area, ordering tables, banquettes, bar tops, flooring, wall and ceiling treatments just became easier. This move makes it convenient for many to find and order what they need. It also enables Heritage Salvage to extend its reach to inspire new customers in making sustainable choices for their projects. Heritage Salvage will have samples of many of their products on hand at INJA.
INJA and sister company Tansu Design have been serving customers from the San Francisco Design Center for twenty years. The addition of Heritage Salvage Wood Talks line of reclaimed flooring and furniture will expand their ability to serve customers with local sustainable choices.