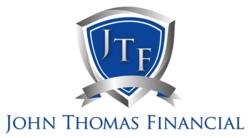 "The reason this is all true is simple," Norman writes in the piece.
New York, NY (PRWEB) July 19, 2012
John Thomas Financial Chief Economist Mike Norman issued an analysis on the Eurozone crisis, the firm announced today. The in-depth op-ed suggests that Europe would survive for as long as the European Central Bank continues to supply euro denominated liquidity.
"The reason this is all true is simple," Norman writes in the piece. "The ECB is the sole issuer of the euro; all the other nation states of the Eurozone, including Germany, are currency users and as such are limited in the amount of spending and/or monetary aid they could provide to anyone else."
Norman believes that despite the ECB's reluctance to continue funding the system and, in effect, national governments, it will continue to "write the check" because failure to do so would have far-reaching, detrimental effects that the ECB is not willing to risk.
Failure to [continue supplying liquidity] would cause the ECB to lose control of its target interest rate, and more importantly, it would risk an almost certain failure of the Eurozone banking system, which would undoubtedly send the entire global economy into a depression. The ECB knows this and it was an important part of their reason for acting over and over again, however reluctantly, to keep the whole system from falling apart.
Norman's piece can be read in its entirety on the official company blog of John Thomas Financial.
For timely insights, news, and commentary on economics and financial markets, visit the JTF Blog or join the John Thomas Financial community on Twitter and Facebook.
About John Thomas Financial
John Thomas Financial, a member of FINRA and SIPC, is an independent broker-dealer and investment banking firm headquartered in New York City's Wall Street district. Emphasizing a client-centric approach to managing all aspects of its business, John Thomas Financial and its affiliates offer a full complement of retail brokerage, private wealth management, and corporate advisory services tailored to the unique needs of its clients. The firm publishes the Fiscal Liquidity Index, a unique daily indicator that looks at government spending and its impact on the financial markets, as well as The John Thomas Financial Economic Outlook, a research report analyzing consumer sentiment, market outlook, credit cycles and dozens of other market influences. For more information on the firm, please visit: http://www.johnthomasfinancial.com.
Important Disclosures
The information provided in this publication is for informational purposes only. Investors should consider this report as only a single factor in making their investment decision. This informational report is not an offer to sell or a solicitation to buy any security. This report has been prepared as a matter of general information. It is not intended to be a complete description of any company, and is not an offer to buy or sell any security. All facts and statistics are from sources believed to be reliable, but are not guaranteed as to accuracy. Before acting on the materials herein you should consider whether it is suitable for you particular circumstances and, if necessary seek professional advice investments involve risk and an investor may incur losses. Past performance is no guarantee of future performance. Trading and investment decisions are the sole responsibility of the reader.