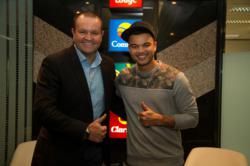 Choice Hotels always ensured that we (the crew and myself) had a restful and hassle-free stay
Sydney, New South Wales (PRWEB) July 20, 2012
Choice Hotels Australasia was delighted to host Guy Sebastian during his recent 'Armageddon' tour of Australia that wrapped up last week.
The tour saw Guy travel and perform in over 20 regional and metropolitan locations staying at Choice hotels and often with his wife Jules and baby son Hudson in tow.
Hotels where Guy and his crew stayed:
Quality Hotel Powerhouse Tamworth, Tamworth, NSW – 4.5 star luxurious Tamworth accommodation.
Quality Inn Dubbo International, Dubbo, NSW – A quiet Dubbo hotel just minutes from Dubbo Zoo.
Quality Inn Country Plaza Queanbeyan, Queanbeyan, ACT – Well located Queanbeyan accommodation.
Quality Inn Ambassador Orange, Orange, NSW – 4 Star centrally located Orange accommodation.
Quality Inn Heritage on Lydiard, Ballarat, VIC - Boutique Ballarat accommodation near Ballarat's major attractions.
Quality Hotel Wangaratta Gateway, Wangaratta, VIC – 4.5 star award winning hotel.
Clarion Suites Gateway, Melbourne, VIC – A stylish 4.5 star Melbourne hotel.
Comfort Inn Eastern Sands, Geelong, VIC – 4.5 star accommodation in Geelong within walking distance of the water.
Comfort Hotel Perth City, Perth, WA – Centrally located 3.5 star Perth hotel.
Quality Suites CREST Mandurah, Mandurah, WA – 4.5 star waterfront Mandurah accommodation.
Clarion Hotel Soho, Adelaide, SA – A designer style boutique hotel in the heart of Adelaide.
Quality Hobart Midcity Hotel, Hobart, TAS – Centrally located Hobart hotel.
Quality Resort Sails, Port Macquarie, NSW – Waterfront Port Macquarie accommodation
Clearly impressed by the amenities on offer, Guy soon learnt he didn't have to give up the luxuries he is accustomed to when travelling the country over.
"From Tamworth in New South Wales to Mandurah in Western Australia, I was truly blown away by the high standard of regional accommodation and things to do along the tour route. Choice Hotels always ensured that we (the crew and myself) had a restful and hassle-free stay," said Guy.
Taking time out of his busy schedule, Guy also popped in to visit the company's headquarters where he belted out a ballad or two to newly appointed CEO Trent Fraser and the management team.
Choice Hotels Australasia has 261 hotels across Australia and whether it's a beach break, a country getaway or a city adventure for business or leisure, amongst its collection of three to four-and-a-half star hotels there's an accommodation option to suit everyone.
Guy Sebastian shot to fame after winning Australian Idol in 2003 and has since become one of Australia's most loved artists winning multiple ARIA Awards. Guy's two month tour coincided with the launch of his highly anticipated seventh album release 'Armageddon'.
ABOUT CHOICE HOTELS AUSTRALASIA
Econo Lodge, Comfort, Quality, Clarion, Clarion Collection, Choice Hotels Australasia, Choice Privileges and Choice Hotels are proprietary trademarks of Choice Hotels International, Inc. Choice Hotels Australasia is part of Choice Hotels International, which franchises more than 6,100 hotels worldwide including more than 280 in Australia, New Zealand and Singapore. For bookings and information contact 13 2400 in Australia or 0800 803 524 in New Zealand.© 2012 Choice Hotels Australasia. All rights reserved.