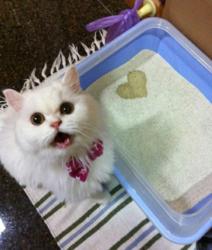 We always suggest that the very first and most important question to ask is which cat litter is the one that your cats will use? Better yet - which is the one that your cats will find the most inviting?
Santa Monica, CA (PRWEB) July 18, 2012
The Boxiecat subscription cat litter service began an ongoing blog series with an aim of educating and providing helpful resources for cat lovers. Litter Box Care 101 will focus on the basics of providing cats healthy and hygienic litter care and tackle the big issues and questions surrounding this important aspect of caring for cats.
The first article, entitled Which Type of Litter Should I Use? was published today.
Article Excerpt:
"This is a question many cat lovers ask themselves, and it prompts a slew of other questions - Which cat litter is healthiest? Clumping litter or non-clumping litter? Which clumping kitty litter works best? Which is the most dust free cat litter? Which controls ammonia odors best? Which is environmentally friendly?
We always suggest that the very first and most important question to ask is which cat litter is the one that your cats will use? Better yet - which is the one that your cats will find the most inviting? That one will be the best cat litter for your cats. We'll hear from some trusted sources below that say this usually means: 
-Clumping litter, so that the litter box remains very clean with twice daily scooping;
-Truly unscented litter - it should not have any chemical fragrance (these fragrances are for humans, not cats). Most cats find these fragrances overwhelming;
-99.9% dust free cat litter that is hypo-allergenic; 
-All natural litter (one ingredient is best, the less carbon, additives, and blue dots you see the better).
There are many choices on the market. Let's hear about these choices from the ones who matter - the cats! Here's a real life test noted on the ASPCA website:
"In 1990, Dr. Peter Borchelt, an applied animal behaviorist, ran three 10-day tests to determine feline litter preference using a comparison of 14 types of commercial litter as well as topsoil mixed with clay litter and playbox sand. Each cat had 6 boxes to choose from; midway through the testing, the boxes were moved to prevent placement preference from overriding litter type preference. In test after test, fine-grained clumping litter was used more than twice as often as its nearest competitor, with boxes of wood chips, grain litter and recycled paper litter going completely unused. Borchelt concludes, 'These data support the clinical observation that an important factor in cats' preference for litter material is its texture, granularity or coarseness...a finely textured clay was preferred to clay with larger particle sizes. But playbox sand, which is also finely textured, was not preferred much more than coarse clay, perhaps because of the weight of the particles.'"
The takeaway - cats prefer fine-grained clumping clay.  
This advice greatly simplifies the question of 'Which cat litter should I use?' since there are limited number of all natural, unscented, 99.9% dust free, clumping clay cat litter brands on the market. We would suggest taking a look at some of the cat litter reviews on the internet, ask a friend, or have a conversation with the company who makes the litter. 
Sometimes it's worth getting a few brands, putting one each in its own litter box and letting your cat tell you which brand is best for him or her. After all, they are the boss!"
The article continues with expert commentary and secondary issues such as the inconvenience of litter care for cat lovers and its effects on the consistency of litter box care.
About Boxiecat
Boxiecat, whose service has subscribers nationwide, is offered exclusively through the Boxiecat website, and Boxiecat brand litter is shipped directly to subscribers. Boxiecat is America's first and only subscription cat litter service.
Subscribers save time, eliminate round trips to the store, and put an end to lifting and lugging heavy containers. The service features personalized shipment timing and vacation holds. Payments are made on a pay-as-you-go basis, and subscribers can pause or cancel their account at any time. A necessity for the 86.4 million pet cats in the U.S., Boxiecat provides a unique and convenient solution to the problems associated with cat litter. Boxiecat is Better Business Bureau accredited.
Boxiecat manufactures its own brand of veterinarian recommended, all natural, premium clumping clay kitty litter. Hard clumps form on the top rather than soaking to the bottom of the box, making litter care a breeze. Boxiecat litter stays ultra-clean even after weeks of scooping. It is unscented and completely eliminates ammonia odors without using fragrance as a masking agent. An over 99.9% dust free cat litter, it is hypo-allergenic and long lasting.
Boxiecat has been recommended by The Washington Post, Cat Fancy Magazine, About.com, animal shelters, and veterinarians across the U.S., and has been featured in USA Today, Cornell University College of Veterinary Medicine's Cat Watch Newsletter, The San Francisco Chronicle, The Houston Chronicle, Treehugger.com, and Examiner.com.
For more information about the Boxiecat service and Boxiecat brand premium litter, or to subscribe, visit boxiecat on the web at http://www.boxiecat.com. Customer Care can be reached at (877) 817-0253.