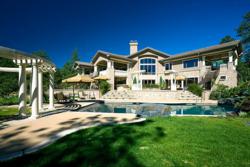 This is an incredible opportunity to name your price on a spectacular home," stated Scott Kirk, executive vice president of Charlotte-based Grand Estates Auction Company.
Evergreen, CO (PRWEB) July 18, 2012
Grand Estates Auction Company, the industry leader for luxury real estate auctions, is pleased to offer a one-of-a-kind 10-acre luxury estate in Evergreen, Colo. with stunning mountain views at absolute auction on Tuesday, July 31st at 2:00 p.m. The estate, constructed in 2006, is perfectly situated in the Kerry Gulch Valley and features five bedrooms, six full and three half baths, a 2,400-square-foot heated barn and fully stocked lake, and is only minutes from world-class skiing and downtown Denver.
Grand Estates Auction Company brings a wealth of experience to this sale with more than 30 luxury properties sold in the Colorado market, most recently an Aspen-area mountain estate sold at absolute auction earlier this month. At the buyer's request, the closing on that particular home is scheduled to occur only 10 days after auction day.
"This is an incredible opportunity to name your price on a spectacular home," stated Scott Kirk, executive vice president of Charlotte-based Grand Estates Auction Company. "The beauty of participating in a Grand Estates auction is that the luxury homes we sell are owned by motivated sellers. They understand that the live auction process provides fair market value in its purest and quickest form on a predetermined day."
Absolute auctions require no minimum bid or reserve price and are becoming increasingly popular with buyers and sellers of luxury real estate throughout the world due to their timeliness and transparency. There are no contingencies, no lengthy negotiations, and timelines for closing are already established. To help buyers make an informed purchase, a comprehensive due-diligence packet is provided, and ample time is allotted for tours and inspections prior to the auction.
"The Evergreen home was designed with family and entertainment in mind," said Kirk. "With a large open floorplan, spacious guest suites, and sprawling decks and patios overlooking a lagoon-style pool, this home presents the perfect blend of size and comfort. And one lucky bidder will have the opportunity to own this incredible mountain home at their price on July 31st."
Appointed with exceptional finishes and extraordinary details, the home features unsurpassed quality in every way from the custom William Ohs designed kitchen with top-of-the-line appliances, to the Smart Home system that effortlessly manages the home's state-of-the-art electronics, HVAC and security systems. Sited perfectly in the Kerr Gulch Valley, the thoughtful design concept maximizes the natural light and views by constructing the home with ideal East / West orientation. The 10 lush acres set among the rolling hills of Evergreen are irrigated and completely gated and fenced.
Rich with history and culture, Evergreen offers an idyllic mountain setting with big-city amenities only 30 minutes away via nearby I-70. With museums, shopping, restaurants and entertainment, Evergreen offers something the entire family can enjoy. For those seeking adventure, world-class resort skiing is just 45 minutes away and other activities such as hiking, rafting, golf, fly fishing, mountain biking and snow shoeing are all just outside your front door.
The auction will start promptly at 2:00 p.m. on Tuesday, July 31st. Provisions for remote bidding can be arranged. The property will be available for prospective bidders to preview beginning Friday, July 27th, at 11:00 a.m., with preview times scheduled daily through the date of the auction. Buyers may contact Grand Estates Auction Company's auction information office to schedule an appointment during one of the preview times at 877-314-4960. A $100,000.00 certified check or personal check along with a bank letter of guarantee will be required to register to bid.
Grand Estates Auction Company is the leader in the niche market of auctioning luxury real estate, specializing in properties valued at $1.5 million and above throughout North America and the Caribbean.  Established in 1999, the family-owned company was the first of its kind and is credited with holding the first ever luxury real estate auction in Aspen, which resulted in more than $17 million in sales.  The company is based in Charlotte, N.C. with offices in Atlanta, Dallas, La Jolla, Ca., Naples, Fla. and Vail, Colo.  For more information and auction details visit http://www.GrandEstatesAuction.com.