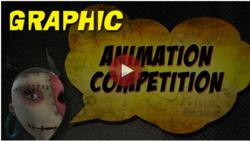 Sydney, New South Wales (PRWEB) July 20, 2012
Sydney Opera House today announced the return of the GRAPHIC global animation competition, held as part of the GRAPHIC festival of storytelling, animation and music. The competition is open to illustrators, animators and storytellers of all levels – from established artists to up-and-coming talent – from anywhere in the world.
First prize for Best Animated Short is a trip to Sydney to attend GRAPHIC festival at Sydney Opera House, $10 000 [AUD] and the winning entry will be screened at the GRAPHIC opening night event. There will be a $5000[AUD] prize for Best Animation Craft, as well as the ANIMAL LOGIC People's Choice award of $5000 [AUD].
Entrants are required to create an original short animated film with a running time of no longer than three minutes, and upload it to the dedicated GRAPHIC festival YouTube Channel, where the public can vote for their favourite. The twenty animations with the most votes will then be submitted to a panel of industry experts for judging.
Judges for the GRAPHIC global animation competition include Animation Director, Marco Marenghi (Walking with Dinosaurs 3D [2013]); Director, Chris McKay (Robot Chicken TV series, Co-director LEGO: The Piece of Resistance [2014]), Animation Director, Daniel Jeannette (Happy Feet, Where the Wild Things Are) and GRAPHIC co-curator, Jordan Verzar.
Competition is now open and entries close on Sunday 28 October, midnight AEST
GRAPHIC 2012 at Sydney Opera House will take place from November 9 – 11. The full program will be announced in September.
GRAPHIC Global Animation Competition – Call for Entries
Wednesday 11 July – Sunday 28 October (midnight AEST)
Submissions: youtube.com/SOHCompetitions
PRIZES:
Best Animated Short - $10,000 [AUD] prize and a trip (3 days and 3 nights) to the GRAPHIC at Sydney Opera House;
Best Animation Craft of $5,000 [AUD];
ANIMAL LOGIC People's Choice Award of $5,000 [AUD]
GRAPHIC at Sydney Opera House
November 9 – 11, 2012