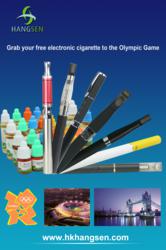 Hangsen, the world' largest E-liquid manufacturer, is cooperating with Truvpe, a London based retailer of electronic cigarettes, to celebrate for the Olympic Game with the smokers.
(PRWEB) July 20, 2012
As the Olympic game comes closer, millions of people are getting into London, capital of UK for the game, and a lot of them are smokers. But now the smokers are facing a problem: UK strictly prohibits indoor smoking everywhere. To ensure that smokers enjoy the game without getting rid of their habit, TruVape, an online electronic cigarette retailer based in London, is giving away free electronic cigarette products for smokers.
"Smokers want to smoke everywhere, and our electronic cigarettes allow them to do so. Our products come from the world's largest E-liquid manufacturer, Hangsen, and are guaranteed to be top quality. As a member of ECITA, the electronic cigarette association in the UK, most of our time is spent on improving the quality, i.e., the smoking sensation of the E-liquid and the performance of the device. We spent over 6 months looking for an ISO certified manufacturer with large clean room facilities, and luckily we found Hangsen and their technical team." James, purchasing director of TruVape, said.
To celebrate for the Olympic game, TruVape is giving away free starter kits to people who join their community. For more details, visit their Facebook page: http://www.facebook.com/TruVape