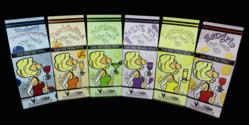 Perfect 10's across the board!
Atlanta, GA (PRWEB) July 27, 2012
At the recent international gift shows held at the Atlanta Gift Mart and the Philadelphia Gift Mart, The Old World Gourmet vinolicious team ran away from the competition.
The existing flavor team of Lemon, Wine, Margarita and Peach were joined by the last minute qualifiers Blueberry Pomegranate and Sangria. The newcomers barely qualified for the contests and had to beat out several incumbent mixes with years of gift show experience for the right to represent the Old World Gourmet line of gift and party mixes.
The two shows were back to back and lasted 14 grueling days. The team competed against some elite challengers and the flavors were sampled, tested, and challenged like never before by by thousands of individual fans, buyers, and exhibitors, but in the end there were perfect 10's across the board, as none of the other teams could match the OWG vinolicious team in depth, flavor, packaging and overall fan appeal.
In short, this contest was no contest.
Of course the vinolicious team could not have performed at this level without the dedicated training and support staff at Old World Gourmet who perfected the packaging , presentation, and made sure the team was ready to wow the crowd.
About Old World Gourmet
Old World Gourmet is a manufacturer of frozen wine and liquor drink mixes who has been "serving fun for over a decade". OWG has a complete line of mixes for whatever your drink of choice and promotes all natural and made in the USA products. OWG products are found in finer gift retailers nationwide as well as online at the company website http://www.owgshoponline.com or on facebook.com/old world gourmet or twitter @oldworldgourmet