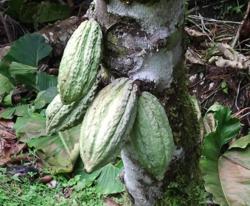 If we continue down this road, all chocolate will be the same. It would be like having only one kind of grape from which to make all of our wine.
(PRWEB) July 20, 2012
Fine-flavor chocolate – the expensive stuff that sends true chocolate lovers into swoons of ecstasy – is becoming an endangered species but the task of preserving the world's dwindling supply has become a bit easier with the launch of the Heirloom Cacao Preservation Initiative, says Ecole Chocolat founder Pam Williams.
Williams, also a founding member of the Fine Chocolate Industry Association created in 2007 to support, promote and preserve fine-flavor chocolate, is part of the FCIA's Founding Circle of the HCP Initiative, which together with the USDA's Agricultural Research Service (USDA-ARS) will begin creating the first-ever genotype map with a focus on cacao trees producing fine-flavor beans.
"We have studied cacao trees and their DNA to find their disease resistance and high yield. We've never done that for flavor and that's what we're doing now with HCP," says Williams.
Most of the world's fine-flavor chocolate is grown in the equatorial forests of countries such as Madagascar, Ecuador and Venezuela where farmers are finding it more lucrative to tear out the cacao trees and clear their land to grow cash crops such as pineapple, soy and cattle.
"If we continue down this road, all chocolate will be the same. It would be like having only one kind of grape from which to make all of our wine," says Williams, adding: "It's preserving for posterity those beans that carry a lot of flavor. As a chocolate-arts school owner, teacher and recipe developer, I don't want to lose the flavors of fine chocolate. It would be sad if I could only work with one or two flavors."
"Preservation is necessary now more than ever," says Dr. Lyndel Meinhardt, the USDA-ARS Sustainable Perennial Crops Laboratory research leader who will be working on the heirloom cacao project. "If we can't identify, preserve and protect these flavors, they'll be lost forever."
Meinhardt says it's difficult to speculate how long it will take to come up with hard findings on what cacao beans are worth preserving because of the many complexities and variables involved. It's a long-term project, he says, but it's likely researchers will "see some connections right away.
"It will depend on the samples we receive. The more diversity we see in the samples the easier it will be to identify these connections. If we receive only one or two types of cacao then drawing these associations could be more difficult," he says.
The HCP welcomes any beans to be submitted and evaluated for their flavor, but not every bean will be identified as heirloom, according to Dan Pearson, chief executive officer of Marañón Chocolate and FCIA board member, who helped develop the heirloom project.
"First of all, it has to taste good," says Pearson. "Can taste be objective, like genetics? No, but genetics alone says nothing about flavor."
An international tasting panel of chocolate experts has been set up and will do blind tastings of the chocolate samples being submitted for possible genotyping.
"Strong genetic origin may have the potential to yield the best flavor, but genetic identification itself simply reveals what a bean is, not whether it's really yummy. That's about classification. If it doesn't taste good, we're not going to proceed with the genetics," Pearson says.
The HCP Initiative will be ready to accept submissions this fall, says Williams. "We want to engage as large a network as possible to identify at-risk heirloom cacao populations worldwide. Cacao growers, cacao processors, traders, chocolate manufacturers, and artisan chocolate makers are encouraged to submit their beans for evaluation or to inform the HCP of at-risk heirloom cacao populations."
In the short term, the HCP will apply new genetic standards for flavor identification to help protect and propagate heirloom beans, mapping their flavors down to their GPS locations, according to the FCIA website. In the long term, chocolate makers, chocolate manufacturers, and chocolatiers will be able to include HCP certification on their labels, thereby supporting growers of heirloom cacao and alerting buyers to independently verified, great flavor.
The FCIA is also sending out a call on its website to those who wish to join the fight to save fine flavor cacao through donations or bursaries. The latter have been created to help cacao farmers with the cost of HCP certification.
Founded in 2003, Ecole Chocolat Professional School of Chocolate Arts offers a portfolio of programs for chocolate making – mastering techniques while gaining the expertise and business knowledge needed to become a professional chocolatier or chocolate maker. Ecole Chocolat's founder Pam Williams is the recipient of the Award of Excellence in Service to the Industry from the Fine Chocolate Industry Association. See our website: http://www.ecolechocolat.com/