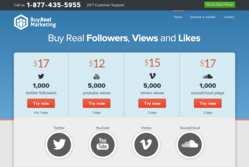 Ottawa, ON (PRWEB) July 18, 2012
Buy Real Marketing, a world provider of web 2.0 applications, continues to live by the principle of providing only valuable services to the web community through social media. Now, the internet marketing company takes the plunge to yet another revenue-generating venture and offers their clients the chance to upgrade their accounts and become elite resellers.
Recently, Buy Real Marketing opened their doors to welcome a potential partnership with their existing clients through the reseller program. The offer allows resellers to avail of a 20% discount on all products and have their own reseller client portal for all their social media needs.
"We, at Buy Real Marketing, were overwhelmed with the positive response that the reseller program received, with over a hundred applications approved. We believe that it is appropriate to reward resellers with a more inviting offer, the Elite status," says Business Development - Managing Director, Jonathan Kennedy.
Now, Buy Real Marketing extends an invitation to resellers to sign up for the Elite Reseller program. Elite resellers will enjoy several benefits that include access to exclusive packages, promos and contests, priority in service inquiries with the customer support, and a 30% discount on all services excluding YouTube.
"We offer elite resellers the exclusive advantage of being able to negotiate with our reseller manager in terms of prices," reveals Managing Director, JP Bisson.
Requirements to become an Elite Reseller:
1. Must be a Reseller.
2. Have funded their accounts 10 or more times with the credit system from July 1st onwards, regardless of the amount of the credits bought.
Once requirements are met, applicants are encouraged to contact the reseller manager through chat, email or call to enable registration of account to the Elite Reseller System.
Buy Real Marketing offers services that help clients grow their business through social media. Among the services they offer are Twitter followers, YouTube and Vimeo views, and SoundCloud plays. Customer support is available 24/7 and services are offered with a 100% Money Back Guarantee.
To know more about the company's services, visit their website at http://www.buyrealmarketing.com or contact them at 1-877-435-5955.
About
Buy Real Marketing is owned by Clicking Labs. Clicking Labs is a well established internet marketing company founded in 2010 by Jean-Patrick Bisson, Diana Quartin and Jonathan Kennedy. The company specializes in driving search marketing and social media traffic, social web app development and conversion optimization. Each product or service specifically helps small/medium website owners increase online visibility and improve online sales.