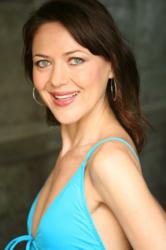 European singer songwriter, Elvira Kalnik, takes another risk...
(PRWEB) July 19, 2012
After a huge break in her singing career, European singer songwriter, Elvira Kalnik, takes another risk as she brings her inspiration and creativity to her new single, "I Wish to Practice Me." Receiving high music and vocal education in both Ukraine and Germany, Elvira Kalnik who is considered by teachers to be a "classically trained diva with a rock and roll mind," has combined her cross-over styles to create an exciting single featuring electronic dance style with a touch of dubstep and futuristic electronic sounds.
"I'm not afraid of changes and experiments," says Elvira Kalnik. "This new single is an example of my free soul and lifestyle."
Elvira Kalnik is revolutionizing the world of music with her variety of styles she incorporates on each album. Her previous album, "Peachy Pink," features a mixture of contemporary pop, soft rock, and electronic sounds, that puts to shame the traditional one-style set of songs most singer songwriters perform. Each song she sings has powerful lyrics based on real stories or ideas that touch audiences as they glimpse the parts of Elvira Kalnik's life she sings about.
Her tendency to mix the unmixable is what makes her cross-over vocals unique. From her "traditional and normal" "Peachy Pink" album to her more eclectic album, "Inside," Elvira Kalnik's variety of musical styles and theatrical talent has been praised by the media. According to one review, the unique sound pleasing albums she creates are "supposed to be forbidden for their crazy and psychedelic sound."
Just as her music pleasantly surprises the audience, her ability to dance and act on stage also wows the audience. In her show "Ice and Fire," Elvira Kalnik performs her song "Make Him Smile" while sitting in a split.
"When I was 5 years old, my mom took me to ballet school. A year later, I tried to write my first song while studying piano in a music school. I always had difficulty choosing between dancing and singing, so I decided to do both," says Elvira Kalnik.
The single "I Wish to Practice Me" is coming out soon. For more information visit http://www.reverbnation.com/elvira
About Elvira Kalnik
Singer songwriter Elvira Kalnik is a European crossover artist who sings a variety of musical styles including contemporary pop, jungle, electronic music with an operatic quality, and gentle rock. Born in the Ukraine, Elvira has received high music and vocal education in both Ukraine and Germany. She started writing songs since the age of 14 and produced her first album when she was 15 years old. Her breakout album, Peach Pink, is a mixture of melodic styles with the lyrics written by her husband. Her next album, Magical Child, is in the works.