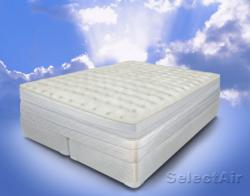 Compared to other popular models, Select Air Beds offer consumers better quality materials at a price that is up to 40% less.
Miami, FL (PRWEB) July 19, 2012
Selectairbeds.com, the leading provider of luxurious air beds and adjustable sleep solutions, has announced the 'Sleep Well' campaign to promote awareness for the many ways in which a mattress may impact the health of its owner. As part of the campaign, customers may save upwards of 40% on the purchase of a new premium air-adjustable mattress. Complimentary shipping, industry leading warranties, and a 30-day at-home trial are also available, making it easier and more affordable than ever for customers to experience a healthier and fuller night's rest on a brand new air-adjustable bed.
Air beds are gaining popularity among singles and couples of all ages for their superior ability to provide a highly personalized level of comfort. First made popular in the 1990s, air-adjustable mattresses put control in the hands of the consumer and allow for on-demand adjustment of sleep surface firmness. At the push of a button, air can be smoothly and quietly added to the mattress chamber to create a firmer and more therapeutic sleep surface. Or, air can be removed to create a softer and more forgiving surface that is ideal for those who prefer sleeping on their side. Today, air beds come topped with memory foam, latex, or foam-latex hybrid comfort layers for added durability and body support. Layer by layer, no sleep solution delivers a more personalized level of support and comfort than an air bed mattress. Personalized support is key when it comes to a healthy night's sleep, as higher levels of comfort promote a deeper level of rest that rehabilitates and rejuvenates the entire body.
It's more than just support and comfort that make air beds a popular choice among health-conscious consumers, however. At the core of each Select Air Bed is a vulcanized rubber air chamber, and the surrounding frame is comprised of clean materials that are both hypoallergenic and resistant to dust mites. Most importantly, however, is Select Air's commitment to consumer health through superior inner-mattress construction. Unlike most air bed models, each Select Air bed is constructed with unique a mold-proof lining to prevent the formation of mold, mildew, and other harmful agents within the mattress. This is a particularly important component of an adjustable-air bed, as inner air chambers are susceptible to mold formation when not properly insulated. Unprotected mattresses may facilitate the growth of bacteria that is extremely hazardous to the health of the owner, especially when it is left to fester on the inside of the mattress where it is hidden from plain sight.
From top-to-bottom, the construction of each Select Air adjustable-firmness mattress features only materials that are durable, safe, and luxuriously comfortable. Compared to other popular models, Select Air Beds offer consumers better quality materials at a price that is up to 40% less. Select Air also offers unparalleled customer support to help anyone—even those new to the idea of an "adjustable firmness mattress"—find a bed that will exceed expectations while staying well within budget. For individuals with limited mobility or other medical conditions, Select Air proudly offers adjustable bed bases to make it easy, safe, and convenient to enter and exit the bed.
To learn more about the Select Air Beds 'Sleep Well' campaign, please visit http://www.selectairbeds.com. Readers are also invited to call the Select Air live customer support center at 1-888-391-5390 to learn more about air beds, adjustable bases, and other components of a healthier and fuller night's rest.