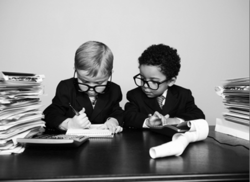 London (PRWEB UK) 19 July 2012
G4S understaffing is just the tip of the iceberg.
UK businesses have largely ignored warnings about the need to prepare for the Olympics, which are less than two weeks away. When news broke that G4S, the company contracted to supply security services for the Games, was not properly prepared a series of questions and concerns for other Facilities Management (FM) companies have arisen.
Just how much will absence cost the London FM industry during the Olympics?
G4S has announced an expected loss of £50 million on the Olympics contract due to embarrassing understaffing problems. But how much will the Olympics cost other FM companies in London?
Honeydew Health works with their clients, some operating within the FM industry to cut their cost of absence and proactively manage absence from an operational standpoint. In 2010, according to the CIPD, UK companies' overall absence levels averaged 3.4%. However in Honeydew's experience FM companies' absence level is typically higher than industry average. If this level increases just slightly to 5% due to expected disruption related to transportation, Honeydew estimates London FM companies would lose £53,000 per working day just from unplanned absence* add on the fines from failing to deliver required staff and this figure will easily double to over £100,000 a day. This monetary amount also equates to 2,500 contracted employees not showing up for work. If the absence level rises to 8%, which is not unlikely, almost 4,000 employees will be absent and the amount lost to FM employers in London each day increases to £85,000.
Companies without robust contingency plans, absence systems and procedures will struggle to flex operations when faced with changes in staff levels. Preparations by London businesses have varied from rigorous to non-existent and soon the world will see just how these companies cope with the Olympic stress test.
Tried and tested contingency plans?
A recent MWB Business Exchange survey covering 430 London companies in travel hotspots found that 89% believe the Olympics will affect them. Perhaps the most worrying finding is that 30% of businesses most at risk for distruption have not made any contingency plans for the Games. Considering the "unexpected" situation G4S has found itself in, it's likely that other companies not so closely connected with the Olympics are even less prepared for the challenges ahead.
If you aren't ready now, it's probably too late
Last year, London's major security companies - including G4S - signed an agreement which prohibits them from actively utilising staff whom they know are working for another company. The aim of the agreement is to ensure that companies will not poach one another's employees and to decrease staff's ability to jump ship for better pay. The outcome? G4S found itself forced to turn to the military for support. Other facilities management and security companies in London are likely to face similar understaffing problems with few alternatives for rectifying the situation.