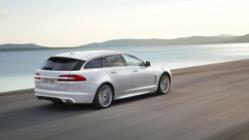 (PRWEB UK) 18 July 2012
At last, Jaguar has come clean with prices for its eagerly awaited XF Sportbrake. Prices range from £31,940 to £51,505.
It's also confirmed the engine line up and that first deliveries will be made towards the end of this year.
Powered by a range of powerful, yet efficient, diesel engines in 2.2- and 3.0-litre capacities, the XF Sportbrake marks the debut of new derivatives based on the 2.2-litre diesel unit. The engine is now available in 163 PS and 200 PS outputs - the latter replacing the existing 190PS output engine. Both share highly competitive CO2 emissions starting from just 135 g/km and economy of 55.4 mpg.
The Sportbrake will also be available equipped with a 3.0-litre turbocharged V6 engine in 240 PS Diesel and 275 PS Diesel S derivatives. Each emits 163 g/km of CO2 and returns 46mpg on the combined cycle.
Despite its focus on versatility, in Diesel S form, the XF Sportbrake can accelerate to 60mph from rest in just 6.1-seconds. The 240PS variant can achieve the same feat in 6.7-seconds.
The company car driver will pay £111 a month in tax for an entry level Sportbrake
For the entry level 2.2 diesel SE Business 163PS the benefit in kind (BIK) for 2012/13 is £6671 so a 20% tax payer will pay £1334 (£111 a month) and a 40% tax payer will pay £2668 (£222 a month).
For the more powerful Luxury 200PS it's £1523 (£127 a month) for a 20% tax payer and £3046 (£254) for a 40% tax payer.
Keep up to date with the latest arrivals in any business car news pages and compare the best deals in company car finance tables.
businesscarmanager.co.uk