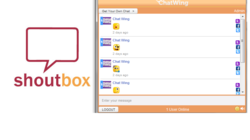 Tucson, AZ (PRWEB) July 18, 2012
The social media has created a clear impact in different blogging communities, based on the activity of thousands of bloggers across the Internet. Because of this fact, the Chatwing team was able to create an efficient blog chat box that can provide streams of communication for people across the world. The Chatwing chat tool is known for its adaptability in over hundreds of blogs and websites. It can also be used for various purposes such as visibility boost, web communication, soft marketing, dating, and even casual chatting.
The Chatwing shoutbox has been around for quite some time now. However, its latest version has focused on the sheer importance of social media integration. This new feature allows Chatwing users to log in with their Facebook or Twitter accounts. This is useful for people who are looking forward to expand their social networks. Online marketers have relied on Chatwing when it comes to their campaigns. This is because of the fact that Chatwing can accommodate up to 600 users in real time. The dev team is planning to upgrade it to 1000, so that many people can now take advantage of the communication leverage offered by Chatwing.
To ensure that the shout box will run without glitches, the Chatwing team has introduced various backend upgrades. In this way, the chat platform will run with proper efficiency and speed. The dev team has also created a template of maintenance schedules that will occur from time to time. The team has also tweaked the installation process of the Chatwing chat widget. Now, users can install the Chatwing tool in just seconds. Adding to that, they can now customize the color, height, and title of the widget.
Chatwing's developers will ensure that their users will always have a wonderful website chat experience. They have also reached out to bloggers by inquiring for their needs and wants. With such information, the Chatwing team will be able to make the shoutbox as reliable as it can be.
About Chatwing.com
Chatwing.com specializes in the new field of website chat. Over years, the Chatwing team has introduced live chat software for hundreds and thousands of blogs. The Chatwing application bridges people from many parts of the world, creating global synergy through the Internet. The shout box can be installed in just seconds, and it can be used for varying purposes such as leisure and Internet marketing. It also allows a user to customize the size, color, and name of the widget. Chatwing is 100% free for everyone.