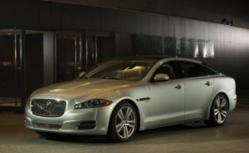 (PRWEB UK) 19 July 2012
It's the end of the road for Jaguar's big 5.0V8 as it announced the MY2013 XJ range will get a new 340ps supercharged V6 instead.
The V8 has powered JLR saloons for over two decades and it has been replaced by a less powerful but cleaner engine, which effectively lops off two cylinders but owes its basic architecture to the bigger brother.
Jaguar is keen to improve engine efficiency and economy and has equipped the new XJ series with the very latest automatic eight-speed transmission, stop & start engine management and a host of other features to improve refinement.
Significant transmission, engine and dynamic developments mean Jaguar's most technologically advanced car becomes more efficient and refined.
To maximise efficiency from the all-aluminium architecture of the XJ, Jaguar has introduced an eight-speed ZF transmission with Intelligent Stop-Start as standard.
As seen on the XF, these developments lead to lower fuel consumption and emissions. The new XJ is expected to achieve 47 MPG while emitting 159g/km of CO2, a 14% improvement.
The 13MY XJ marks the introduction of a new 3.0-litre, supercharged V6 powertrain. Producing 340PS and 450Nm of torque - equating to almost 127PS per litre - the highest specific output of any Jaguar engine, the new engine is refined and powerful.
Making its debut in the XJ and XF, this engine will also power the forthcoming F-TYPE sports car, available from 2013.
For 13MY, XJ has improved suspension refinement and performance. Alongside the exciting new powertrain line-up all models in the range benefit from re-calibrated spring and damper tunes as well as remapped damper software - offering enhanced ride isolation and passenger comfort on all road surfaces.
Enhancements extend to the XJ's award-winning cabin with DAB now fitted as standard and a new premium sound system.
Teaming up with British audio specialist Meridian, Jaguar engineers have developed a 825W sound system. Tested using the most scrupulous audio measurements the Meridian system boasts significantly lower levels of harmonic distortion - meaning a lower power output is required to achieve the high levels of audio clarity within the vehicle. The top-of-the range 20-speaker 825W system comes as standard on Portfolio and Supersport XJ models while offered as an option on other derivatives.
With sales up 11pc in 2011, the XJ range has recently expanded to include the new Sport and Speed packs as well as the introduction of the new 'Ultimate' model, including a bespoke rear seat environment and unique exterior styling.
Keep up to date with the latest arrivals in any business car news pages and compare the best deals in company car finance tables.
businesscarmanager.co.uk