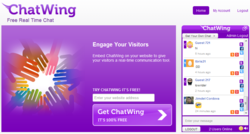 Portland, OR (PRWEB) July 18, 2012
The Chatwing team is now offering a clear-cut opportunity for bloggers to gain leverage in the sea of online competition. This opportunity comes in the form of a new blogging chatbox that can offer communication leverage for everyone. The Chatwing chat tool has been introduced in various blogging communities such as Wordpress, Posterous, and Livejournal. The tool is known for its versatility and high rate of global connection. Moreover, the Chatwing chatroom can also be a hub for web surfers who want to connect to people.
Chatwing offers 100% conversation control for all of its users. In this way, people will be able to control the influx of the messages from many visitors. One of the most prominent controls that visitors can do is word filter. This filter is useful in blocking words that may be obscene and can affect the overall rank of the blog or website. Registered Chatwing users can also delete messages whenever they like. This makes the Chatwing shoutbox efficient in many ways possible.
The latest version of Chatwing's web chatbox tool also offers a social media integration feature. Now, Chatwing users can log in with their social media accounts, instead of the usual guest login option. Social media login is the optimum choice for people who want to expand their networks. The social media enhancement has also contributed to Chatwing's overall rank. Because of this feature, many online marketers are now relying on the communication efficiency offered by Chatwing. Additionally, users can now install the Chatwing chat widget through simple steps. They can also modify the height, color, and title of the widget.
Unlike other shoutbox chatrooms, the Chatwing chat tool goes in-depth when it comes to the field of web communication. The developers of Chatwing aim to create a synergy of communication among bloggers and web surfers, and this can only be made possible by employing a strong set of online strategies. As an initial step, the dev team is now reaching out to more online communities, forums, and message boards.
About Chatwing.com
Chatwing.com specializes in the new field of website chat. Over years, the Chatwing team has introduced live chat software for hundreds and thousands of blogs. The Chatwing chatbox application bridges people from many parts of the world, creating global synergy through the Internet. The shout box can be installed in just seconds, and it can be used for varying purposes such as leisure and Internet marketing. It also allows a user to customize the size, color, and name of the widget. Chatwing is 100% free for everyone.