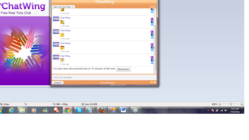 Omaha, NE (PRWEB) July 18, 2012
Blogspot, one of the most prominent blogging communities, is now the targeted foothold of the Chatwing team. The team has decided to expand in this community by launching a simple and user-friendly chat box with various admin features. This chat tool is known for its rate of global connectivity and also functions as an online presence booster. The Chatwing chat app is also integrated with social media integration, so users can now log in with their Facebook or Twitter accounts.
One of the best things about the Chatwing shout box is the fact that it offers communication leverage suitable for various purposes. Blogspot bloggers can rely on this leverage to interact with their blog visitors. In this way, the bloggers will be able to know their target audience more. This is useful for bloggers who are specializing on a certain niche or topic. Additionally, the Chatwing chat widget can also be installed in just seconds. After registration, the user can now proceed to widget customization. Chatwing allows the users to customize the height, width, color, and title of the widget. This rate of synchronization has helped many bloggers achieve the right fix for their blogs.
Back then, the Chatwing shout box has been introduced to travel and relationship blogs where social interaction is highly prioritized. After several platform tweaks, the Chatwing team has realized that the chat tool can be used in the fields of blog marketing and online marketing as well. In a way, the Chatwing chat tool has become a customer service extension that is useful for a lot of dealers and clients.
The Chatwing team is solely dedicated to the empowerment of bloggers' website shoutbox experience. To make the chat tool more efficient than ever, the dev team is always prepared to introduce different platform tweaks. Maintenance services will also occur every now and then to keep the application running at optimum speed.
About Chatwing.com
Chatwing.com specializes in the new field of website chat. Over years, the Chatwing team has introduced live chatbox software for hundreds and thousands of blogs. The Chatwing application bridges people from many parts of the world, creating global synergy through the Internet. The shout box can be installed in just seconds, and it can be used for varying purposes such as leisure and Internet marketing. It also allows a user to customize the size, color, and name of the widget. Chatwing is 100% free for everyone.